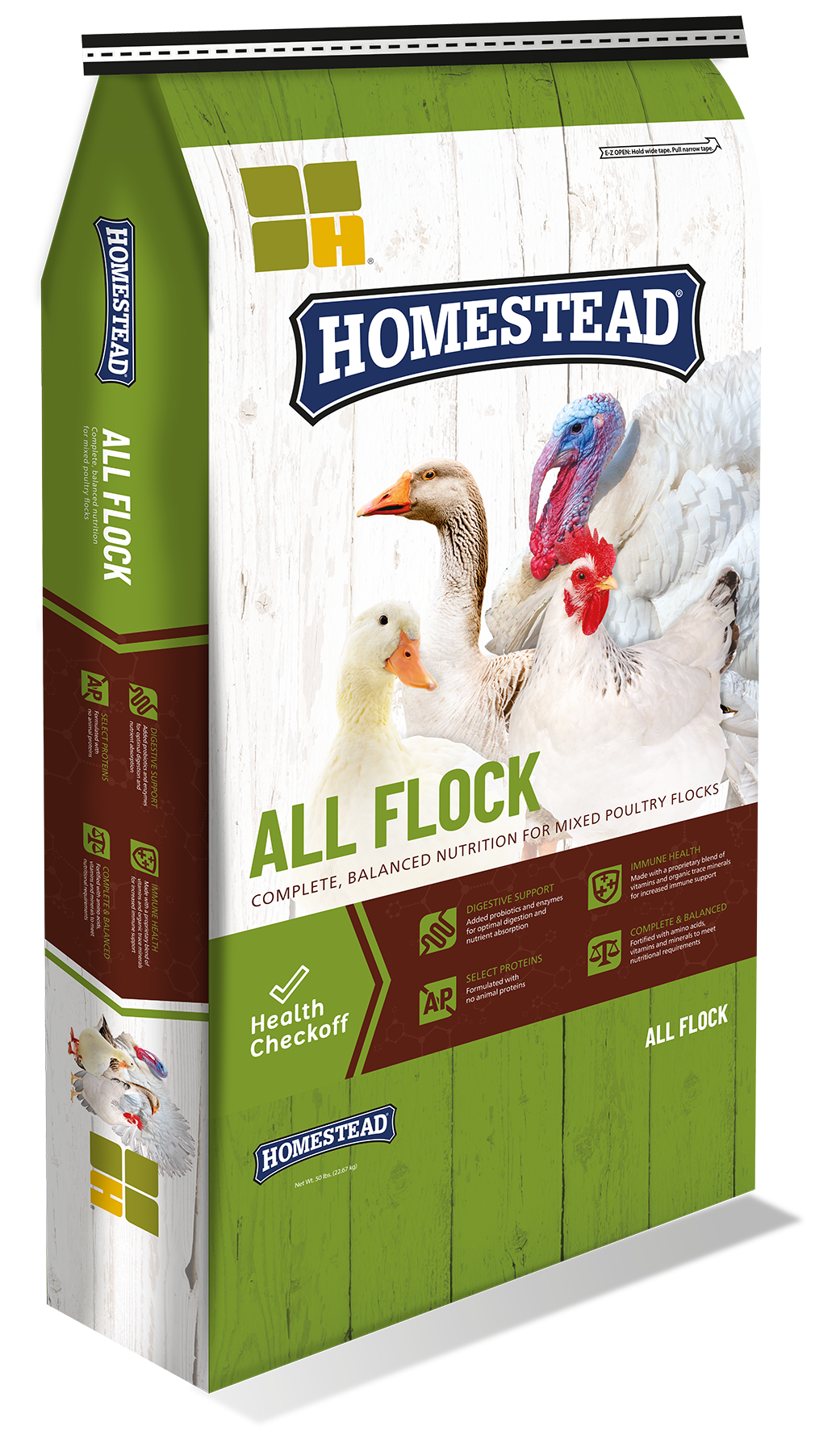 Homestead® Duck & Goose is specifically designed for ducks and geese and is formulated to produce top quality birds. Homestead Duck & Goose contains no antibiotics or animal proteins.
About the Product
Homestead Poultry feeds are made with only natural grains and proteins. These grains are balanced with vitamins and minerals to encourage optimum growth and performance. Formulated without any antibiotics, animal proteins and fats, Homestead Poultry feeds are the wholesome way to provide excellent nutrition to your flock.
Optimum Vitamin and Mineral Levels
Homestead Duck & Goose provides birds with the fortification needed for sound skeletal growth and top nutrition.
Formulated to Promote Health and Immunity
Homestead Duck & Goose contains Opti-Remedy, a source of essential oils, which are designed to promote the growth of good bacteria and improved gut health.
Nutrient Analysis

Crude Protein, min %
18.0
Lysine, min %
0.87
Methionine, min %
0.41
Crude Fat, min %
3.0
Crude Fiber, max %
5.5
Calcium (Ca), min %
0.8
Calcium (Ca), max %
1.3
Phosphorus (P), min %
0.6
Salt  (NaCl), min %
0.2
Salt (NaCl), max %
0.7
Feeding Directions
Feed Homestead Duck & Goose continuously as the sole ration to starting, growing and finishing ducks and geese to market.
Provide plenty of clean, fresh water at all times.
Do not allow feeders to run empty or for stale feed to accumulate.
Never feed any feedstuffs that are moldy, musty or suspect in any way.
Do not mix or dilute with other grains, vegetables or fruits.
Offer just enough feed so that birds consume all feed quickly without it becoming wet from humidity or weather.
Caution
Homestead Duck & Goose is formulated specifically for poultry and should not be fed to other species or to poultry in large commercial operations where a more customized diet would be more appropriate.
Product Number
#34741—Homestead® Duck & Goose NAP/NAB