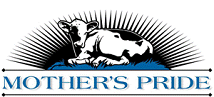 Mother's Pride® Milk Replacer is a premium milk replacer formulated to provide calves with the optimum level of milk nutrition to maximize their early growth. It is designed to provide a more ideal ratio of protein and energy necessary to support enhanced lean tissue growth of calves. 
About the Product
28% Protein & 18% Fat
Research has shown utilizing an intensive milk replacer feeding program with a higher protein to fat ratio will lead to better efficiencies associated with lean tissue deposition and structural frame growth in the young calf. This, combined with higher feeding rates of Mother's Pride, leads to heavier, taller calves when compared to a more traditional liquid feeding program utilizing 20% protein and 20% fat milk replacer.

In addition, an intensive feeding program can have longer lasting effects and result in earlier ages at calving and improved lactation in cows raised on an intensive feeding program as calves.

Quality Ingredients and Easy Mixing
Mother's Pride higher protein level is derived from all-milk sources, is amino acid balanced, and contains highly digestible fat sources to optimize absorption and utilization by the young calf.

An intensive feeding milk replacer such as Mother's Pride is designed to be mixed with water to form an 18% solids solution versus the typical 12-13% solids associated with a conventional 20:20 milk replacer.

Easy mixing, good wetability, and minimal settle-out is necessary with these higher solids rates, and Mother's Pride is manufactured utilizing an instantizing process to assure superior mixability and wetability while minimizing settle-out.

Fortified with Essential Fatty Acids, Complexed Trace Minerals, and Selenium Yeast
Mother's Pride is fortified with NeoTec4, a special blend of fatty acids shown to help support the immune system, intestinal health, and calf growth. In addition, complexed trace minerals have demonstrated to improve growth in calves on an I ntensive feeding program. Mother's Pride also contains selenium yeast to support muscle development and growth.

MOS and Essential Oil Options
MOS or mannan-oligosaccharides and essential oils containing specific plant extracts are optional ingredients available in Mother's Pride. Both supplements contribute to maintaining a favorable intestinal environment leading to optimizing nutrient utilization and growth.
Medicated Options Include:
Oxytetracycline

1200 g/ton

Neomycin Base (from Neomycin Sulfate)

For aid in the treatment of bacterial enteritis (scours)

1200 g/ton

Decoquinate

For the prevention of coccidiosis in non-ruminating and ruminating calves and cattle caused by Eimeria bovis and Eimeria zuernii.

13.6 mg/lb.

Lasalocid

For control of coccidiosis caused by Eimeria bovis and Eimeria zuernii.
Nutrient Analysis
Nutrient Analysis

Crude Protein, min %
28.0 
Crude Fat, min %
18.0 
Crude Fiber, max % 
0.15 
Calcium (Ca), min-max %
0.75-1.25
Phosphorus (P), min %
0.70 
Vitamin A, min 
15,000 IU/lb.
Vitamin D3, min 
5,000 IU/lb. 
Vitamin E, min 
100 IU/lb. 
Feeding Directions
Mixing Instructions: Add 1.5 pounds (24 ounces) of Mother's Pride milk replacer powder to one gallon of clean, warm (110o F.) water into a clean bucket. Mix thoroughly and feed at a feeding temperature of 100-105o F.

At Birth: Feed 1 gallon of high quality, disease free colostrum within 4 hours of birth followed by another 2 quarts of colostrum or milk replacer 12 hours later.

Intensive Feeding Program
Day 2: Begin feeding Mother's Pride milk replacer according to chart below. Offer clean, fresh water at all times.
Day 4: Offer Calf Krunch 22% texturized calf starter free choice, keeping it fresh daily.
| | | | |
| --- | --- | --- | --- |
| Step | Days of Age | Milk Replacer Solution per Feeding | Feedings per Day |
| 1 | 2-10 | 2 quarts | 2 |
| 2 | 11-45 | 3 quarts* | 2 |
| 3 | 46-52 | 3 quarts | 1 |
| Wean** | 53 | wean | 0 |
* Transition calves gradually to Step 2 (Days 11-45) feeding rates over a few feedings.

** Wean calves when eating a minimum of 3 lbs. of starter feed per head per day for 3 consecutive days.

Modified Feeding Rate: A modified feeding rate for Mother's Pride consists of feeding 2 quarts Mother's Pride twice daily continuously through 35 days of age. Feed 2 quarts once daily for an additional week to encourage dry starter intake and weaning.
Management Tips
Offer clean, fresh water at all times.
Clean, sanitize and air dry feeding and mixing equipment after each feeding.
Avoid feeding hay prior to weaning.
House calves in a well ventilated area.
Provide clean, dry bedding at all times.
Caution
These products, which contain added copper, must not be fed to sheep or related species that have a low tolerance level to copper.

These products have been formulated specifically for dairy calves and are not intended for other species. 
Product Number
#281D—Mother's Pride® NM MOS, 50 lbs.