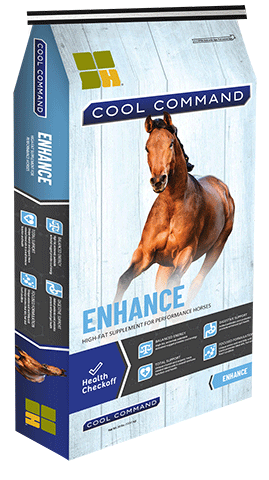 Cool Command® Enhance is a high-fat supplement for performance horses. Made with a unique blend of essential vitamins and 100% organic trace minerals designed to support superior health and body condition, Cool Command Enhance should be fed in addition to a complete Cool Command feeding program.
About the Product
Why choose Cool Command® Enhance?
Cool Command Enhance features Alltech's Total Replacement Technology®, utilizing only 100% organic trace minerals. When compared to inorganic trace minerals, organic forms are more easily absorbed and utilized in the gut, meaning your horse gets more benefits from less product.
When combined with high-quality nutrition, organic trace minerals aid in improving skin, hair and hoof condition. Fortified with Vitamin E, Vitamin C and selenium for total antioxidant support, Cool Command Enhance is a flexible addition to the daily ration for those seeking extra calories that won't contribute to their horses being too hot to handle.
Ingredient Benefits 
BALANCED ENERGY: High-fat, extremely palatable extruded nugget provides cool energy
DIGESTIVE SUPPORT: Added prebiotics and probiotics promote enhanced gut health
TOTAL SUPPORT: Unique vitamin and organic trace mineral blend aids in overall immune function and health
FOCUSED FORMULATION: Unique amino acid and fatty acid blend promotes ideal skin, hair and hoof condition
Nutrient Analysis

Crude Protein, min %
17.0
Lysine, min %
0.8
Methionine, min %
0.2
Threonine, min %
0.3
Crude Fat, min %
25.0
Crude Fiber, max %
9.0
Starch, max %
7.0
Sugars, max %
2.0
Calcium (Ca), min %
0.7
Calcium, (Ca), max %
1.2
Phosphorus (P), min %
0.4
Copper, min
24 ppm
Selenium (Se), min
0.6 ppm
Zinc (Zn), min
218 ppm
Vitamin A, min
7,100 IU/lb
Vitamin D, min
1,400 IU/lb
Vitamin E, min
257 IU/lb
Biotin, min
0.7 mg/lb
Feeding Directions
Begin offering at the rate of one pound per day. Slowly increase, if needed, over time until desired results are obtained.
Please note: Cool Command Enhance is not a complete feed and must be fed in addition to a complete feed program.
Feed Cool Command Enhance along with good-quality hay (1.0 - 2.0 lbs./100 lbs. of body weight), free-choice salt and clean, fresh water.
Feeding Tips
Cool Command Enhance should be fed along with at least 1% of body weight per day of good-quality forage. Maximizing the contribution of forage reduces digestive upset.
Provide free-choice access to salt and fresh water.
Intake levels will vary depending on level of activity, desired body condition, season and quantity and quality of available forage.
Management Tips
De-worm at least 4 times each year.
Trim your horse's feet frequently.
Keep your horse's teeth floated.
A physical examination should be performed annually on all horses by a qualified veterinarian.
Caution
Cool Command Enhance is formulated specifically for horses and is not intended for other species.