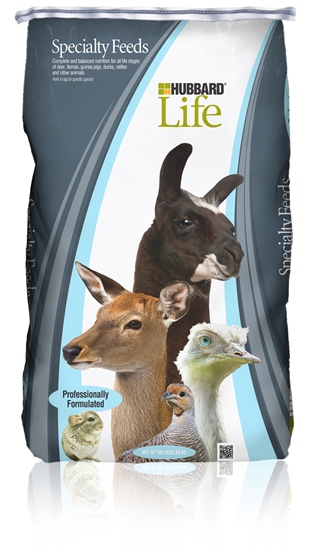 Hubbard® Life Bison Feeds are designed  to be fed to bison (buffalo) at the various stages of production and reproduction for young calves to  cows and bulls on pasture.  These products are formulated to meet the requirements of bison in all phases of production while providing optimal feed efficiency and performance.
About the Product
14% Bison Grower Pellet
A highly palatable product designed to aid in the development of young calves and yearlings to two years of age. This pelleted product will provide optimal nutrition for the proper development of the rumen aiding in forage digestion which will lead to optimal gains and feed efficiency .
12% Bison Cube
Formulated using ingredients that promote the maximum utilization of forage. It is nutritionally balanced to supplement breeding bison receiving adequate forage. It may also be used to maintain weight on yearlings being wintered on standing forage.
Pellets vs. Cube
Pellets are designed for bunk feeding and free choice feeding. Their smaller size makes them easier for younger, smaller animals to eat. Cubes can be fed directly on the ground with little loss as well as hand fed in bunks. They do not work well in self-feeders.
Quality Ingredients
Ingredients are selected for optimal digestibility and enhancement of rumen function. Consideration is also given for their contribution of energy and protein to the diet. These ingredients are naturally palatable.
Fiber Sources
Soy hulls are added to both products to help keep the digestive system healthy. They provide physical stimulation of the gut lining to promote optimal nutrient absorption.
Vitamins and Minerals
These essential nutrients are provided in Hubbard Life Bison products to supplement the diet when feeding a moderate 8% to 10% protein hay.
Nutrient Analysis

 
#40537
14% Bison Grower
#40827
12% Bison Cube
Crude Protein, min %
14.0
12.0
Crude Fat, min %
2.0
2.0
Crude Fiber, max %
18.0
14.0
Calcium, min %
1.2
2.5
Phosphorus, min %
0.6
0.7
Salt, min %
0.3
1.2
Salt, max %
0.8
1.7
Potassium, min %
0.7
0.9
Vitamin A, min %
3,300 IU/lb.
33,000 IU/lb.
Vitamin D, min %
300 Iu/lb.
3,300 IU/lb.
Feeding Directions
Hubbard Life 14% Bison Grower
May be used as a creep feed while on the cow and as a self or hand-fed growing ration for animals weaned and eating well.  Bison should consume about 1% of body weight per day.  Feed along with good quality pasture or hay.
Hubbard Life 12% Bison Cube
Offer to mature breeding bison or yearlings at the rate of 1 to 3 pounds per head per day depending on the need for additional energy and protein.  Feed along with a good quality forage.  Offer a free choice mineral with this feeding program.
Other Hubbard products for bison:
STOCKMASTER® Pasture Mineral (#70P0), is a free choice mineral that can be offered to bison.  Consumption should be around 2-3 oz/head/day.
CRYSTALYX® Sweet 14%™ Low Moisture Block (#3854), is a high energy supplement which is ideal for pasture where the various species of animals may mingle.  Sweet 14%  provides supplemental protein and energy  to livestock consuming forage-based diets.
Feeding Tips
Provide plenty of fresh clean water at all times.
Never feed any feedstuffs that are moldy, musty or suspect in any way.
When introducing a new feed start with small quantities and increase gradually allowing them to adapt to the new feed.
Keep the throat of self-feeders open to encourage optimal intake of bison.
Caution
This product, which contains added copper, should not be fed to sheep or related species that have a low tolerance to copper.
Product Number
#40537—Hubbard® Life 14% Bison Grower Pellet
#40827—Hubbard® Life 12% Bison Cube