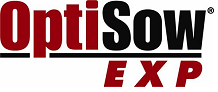 OptiSow® EXP 600/200 DDGS is formulated for the Extra Prolific Nutrition needed by high producing sows and is designed to influence the factors that contribute to increasing pigs weaned per sow lifetime such as:
Lengthening the sow's productive life in the herd.
Capitalizing on the sow's genetic potential for farrowing rate and born alive.
Improved pig health—decreased mortality.
The complementary DDGS formulation in OptiSow EXP 600/200 DDGS is to be used with 300 - 600 lbs of DDGS in gestation and 100- 200 lbs of DDGS in lactation. 
About the Product
Organic Trace Minerals
Feeding organic trace minerals can:
Improve reproductive performance through decreased wean to estrus interval and increasing the number of pigs weaned.
Improve immunity and enzyme function and selenium status for sow longevity and productivity.
Promote uterine healing and reduce incidence of foot claw disorders for longer retention in the sow herd.
Hydrolized Yeast Cell Wall and Yeast Metabolites
Improves growth performance and immunity of weaned pigs.
Chromium Proprionate
Improves glucose metabolism which:
Decreases wean to estrus interval.
Increases litter size by increasing ovulation rate and number of eggs available for fertilization.
Phytase
Phytase reduces the amount of added phosphates needed.
Improves availability of phosphorus, calcium, amino acids/protein, trace minerals and energy.
Reduces accumulation of phosphorus and nitrogen in the environment.
L-Carnitine
L-carnitine maximizes the energy status of the sow during gestation and lactation.
Yucca schidigera
Inhibits urease activity and binds ammonia that is created with the higher nitrogen levels from feeding DDGS.
Nutrient Analysis

Lysine, min %
2.95
Crude Fat, min %
1.5
Crude Fiber, max %
1.0
Calcium (CA), min-max %
17.0-20.4
Phosphorus (P), min %
5.9
Salt (NaCl), min-max %
11.0-13.2
Selenium (Se), min
7.5 ppm
Zinc (Zn), min
3,932 ppm
Phytase (Trichoderma reesei), min
6,810 FYT/lb.*
*One unit of phytase activity (FYT) is defined as the quantity of enzyme which liberates 1 micromol of inorganic phosphorus per minute. Environmental factors such as feed pH, moisture, and processing methods such as pelleting or extrusion, may affect enzyme activity.
Feeding Directions
Mixing Directions
GESTATION MIXING DIRECTIONS
DDGS Level Per Ton of Complete Feed
300
400
500
600
OS EXP 600/200 DDGS Premix lb
80
80
80
80
HP Soybean Meal lb
155
145
135
125
DDGS
300
400
500
600
Corn
1465
1375
1285
1195
Total lb.
2000
2000
2000
2000
Total lysine %
0.65
0.66
0.68
0.69
Digestible lysine %
0.55
0.56
0.56
0.56
Gestation diet recommendations may vary depending on replacement rates and for parity segregated herds. For recommendations specific to your herd, contact your Hubbard Feeds Inc. Nutritionist. Feed resulting complete feeds as the sole diet to sows during gestation. Provide adequate feed to maintain body condition.

LACTATION MIXING DIRECTIONS
DDGS Level Per Ton of Complete Feed
100
200
OS EXP 600/200 DDGS Premix lb
80
80
HP Soybean Meal lb
560
550
Fat
60
60
DDGS
100
200
Corn
1200
1110
Total lb.
2000
2000
Total Lysine %
1.15
1.16
Digestible Lysine %
1.0
1.0
The resulting complete feeds should be fed as the sole diet to sows during lactation. Use the indicated feed intake as the daily minimum. Minimum recommended daily feed intake for the sow is four pounds plus one pound per nursing pig. Sow feeders should be cleaned daily to maximize feed intake. Always provide plenty of clean, fresh drinking water for optimum results.
Caution
This product, which contains added copper, should not be fed to sheep or related species that have a low tolerance to copper. This product has been formulated specifically for swine and is not intended for other species. 
Product Number
#33102—OptiSow EXP 600/200 DDGS, 40 lbs.