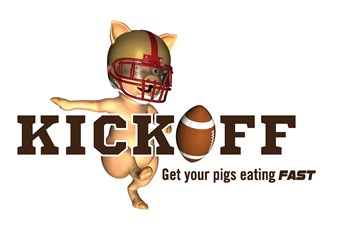 KICKOFF is a highly palatable, nutrient dense feed designed to attract pigs to dry feed and "kickoff" consumption.  
About the Product
KICKOFF contains a blend of ingredients that attracts young pigs and encourages them to eat dry feed. It provides a unique nutrient fortification that also stimulates proper gut health and development.
When to Use
For young pigs to encourage first consumption of dry feed
As a creep feed to promote intake
Sprinkle on mats and nursery feeds for easier transition during weaning
Mix with water and feed as a gruel to pigs experiencing nutritional challenges
Features & Benefits
Whole flaked oats provide a highly digestible energy source along with effective fiber
Palatable milk products attract pigs to dry feed
Special combination of proteins promotes healthy gut development of young pigs
Nutrient Analysis

Crude Protein, min

20.0%

Lysine, min

1.6%

Crude Fat, min

7.0%

Crude Fiber, max

5.0%

Calcium, min-max

0.6-1.1%

Phosphorus, min

0.65%

Salt, min-max

0.5-1.0%

Selenium, min

0.30 ppm

Zinc, min

3000 ppm

Phytase (Trichoderma reesei), FTU/lb

215

Phytase (Aspergillus Niger) FTU/lb
222
Xylanase (Trichoderma longibrachiatum) XU/lb
51
*One unit of phytase activity (FTU) is defined as the quantity of enzyme which liberates 1 micromol of inorganic phosphorus per minute. Environmental factors such as feed pH, moisture, and processing methods such as pelleting or extrusion, may affect enzyme activity.
*One xylanase unit is the amount of enzyme which liberates 1 micromole of xylose per minute under the conditions of the assay.
Feeding Directions
Feed as the sole ration on mats or as a creep feed.  KICKOFF can be used as a supplement to be top dressed on starter feeds, and can be mixed with water and fed as gruel. A source of clean, fresh water is also necessary.
Product Number
#50518 – KICKOFF Top-Dress for Young Pigs, 25 lb.
All products may not be available in all market areas and other products may be offered. Check with your local Hubbard shipping plant or sales representative.