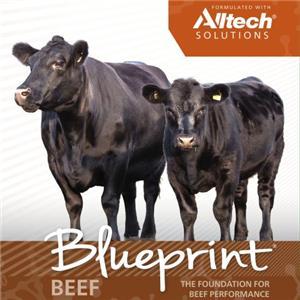 [LEXINGTON, Ky.] 11.7.17 – Designed through decades of practical application to unlock the genetic potential of livestock and support the animal throughout all phases of production, Alltech is proud to launch the premium Blueprint® beef nutrition program for the CRYSTALYX® and Hubbard Feeds brands.
Farmers and ranchers can learn about the product at the following upcoming launch tour trade events:
2017 Angus Convention: Nov.4–6, 2017, Fort Worth Convention Center, Fort Worth, Texas
Range Beef Cow Symposium XXV: Nov. 28–30, 2017, Little American Hotel & Resort, Cheyenne, Wyoming
Montana Stockgrowers Association Annual Convention and Trade Show: Dec. 13–14, 2017, Doubletree Hotel, Billings, Montana
Blueprint is formulated with Alltech's Total Replacement Technology™, organic trace minerals that support absorption, retention and utilization in beef cattle. Blueprint is designed to work synergistically to help beef cattle reach their full genetic potential, resulting in rapid growth, maximum reproductive performance and optimal animal health while reducing mineral excretion into the environment.
The CRYSTALYX and Hubbard Feeds Blueprint products include:
CRYSTALYX Blueprint 6% PHOS
CRYSTALYX Blueprint 20% AN
Blueprint Cattle Mineral
Blueprint Calving Mineral
Blueprint Co-Product Calving Mineral
Blueprint Brown Grass Mineral
The Blueprint beef nutrition program strengthens CRYSTALYX and Hubbard Feeds' commitment to helping producers identify ways to improve efficiency and maximize genetic performance. Blueprint has been scientifically formulated to target animal health and performance at the cellular level and build upon the genetic potential at each stage of an animal's lifecycle.
Blueprint will be available at participating Hubbard Feeds and CRYSTALYX dealer locations.
About Alltech:
Founded in 1980 by Irish entrepreneur and scientist Dr. Pearse Lyons, Alltech discovers and delivers solutions for the sustainable nutrition of plants, animals and people. With more than 100 manufacturing sites globally, Alltech is a leading producer and processor of yeast and organic trace minerals, and our flagship algae production facility in Kentucky is one of only two of its kind in the world.
Our guiding ACE principle seeks to develop solutions that are safe for the Animal, Consumer and the Environment. Our more than 5,000 team members worldwide put this purpose to work every day for our customers.
Alltech is a family-owned company, which allows us to adapt quickly to emerging customer needs and to stay focused on advanced innovation. Headquartered just outside of Lexington, Kentucky, USA, Alltech has a strong presence in all regions of the world. For further information, visit www.alltech.com/news. Join us in conversation on Facebook, Twitter and LinkedIn.
About CRYSTALYX and Hubbard Feeds:
As part of the Alltech family since 2015, CRYSTALYX and Hubbard Feeds have a long history of providing research-based nutrition products and innovative support services. We are driven to provide our customers with products and answers that will improve their profitability, increase their competitive advantage, reduce their risk and simplify their lives.