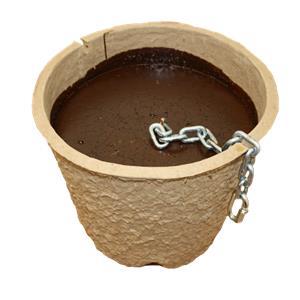 [LEXINGTON, Ky.] – Hubbard Feeds, an Alltech company, has introduced a new nutritional solution for pig producers that influences pig behavior by adding a new stimulus to the environment. The AllBite™ block, officially launched at ONE: The Alltech Ideas Conference, allows pigs to exhibit foraging behaviors and to bite and chew on the block instead of on their pen mates, reducing vice behaviors such as tail biting, ear biting and general aggression. As these vice behaviors represent a significant economic loss for producers in all phases of pork production, the AllBite block is a positive investment for pig producers. 
"Studies have shown that vice behavior in pigs, tail biting in particular, can be a behavioral response to the sight, smell and taste of blood," said Dr. Andrew Bents, swine technical veterinarian at Hubbard. "The AllBite formulation provides a nutritional solution that includes functional ingredients known to calm pigs by enhancing their serotonin receptors and is an economical option for those looking to positively impact the welfare of their animals."
AllBite's molasses-based block, with a unique design and delivery system, attracts pigs and encourages them to chew on the block. Timely use of AllBite blocks can round out a sound animal welfare program.
"Changing diets to mitigate negative behaviors is a common practice, but in most cases, dietary changes are not implemented early enough to effectively prevent them," said Jamie Pietig, senior swine nutritionist at Hubbard. "Also, most vice behaviors only affect a small group within a larger population. With its unique delivery system, AllBite provides a more reliable, cost-effective method by only supplementing the pens that exhibit vice behaviors."
AllBite comes in a 23-pound, biodegradable container and is designed to be hung from the fence or the ceiling with a chain. Pigs are attracted to its design and soon begin chewing on the container and block. The convenience of the AllBite block allows for a quick response immediately after tail biting or other vices manifest. The chain hanger reduces the possibility of the block getting pushed into a corner and ignored by the pigs and also keeps the product clean, increasing the likelihood that the pigs will continue chewing on the block.

For more information, visit hubbardfeeds.com/allbite.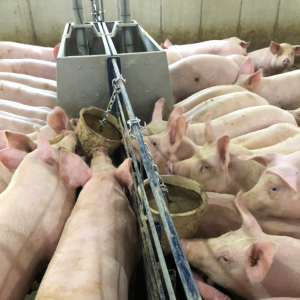 The AllBite™ block formulation provides a nutritional solution to vice behaviors that includes functional ingredients known to calm pigs by enhancing their serotonin receptors. It is an economical option for those looking to positively impact the welfare of their animals.
https://photos.alltech.com/pf.tlx/I2tIbXI6CdNY
-Ends-
Contact: press@alltech.com
Jenn Norrie
Alltech Communications Manager, North America
jnorrie@alltech.com; 403-863-8547
Lori Stevermer
Hubbard Species Marketing Manager
Hubbard Feeds – Part of the Alltech Feed Division
Lori.Stevermer@hubbardfeeds.com; 1-507-388-9471
About Alltech:
Founded in 1980 by Irish entrepreneur and scientist Dr. Pearse Lyons, Alltech is a cutting-edge technology company in a traditional industry, agriculture. Our products improve the health and nutrition of plants and animals, resulting in more nutritious products for people as well as less impact on the environment. 
With expertise in yeast fermentation, solid state fermentation and the sciences of nutrigenomics and metabolomics, Alltech is a leading producer of yeast additives, organic trace minerals, feed ingredients, premix and feed.
Together, with our more than 5,000 talented team members worldwide, we believe in "Working Together for a Planet of Plenty™." With the adoption of new technologies, the adaptation of better farm management practices and the ingenuity inherent in the human spirit, we believe a world of abundance could be ours.
Alltech is a private, family-owned company, which allows us to adapt quickly to our customers' needs and stay focused on advanced innovation. Headquartered just outside of Lexington, Kentucky, USA, Alltech has a strong presence in all regions of the world. For further information, visit www.alltech.com/news. Join us in conversation on Facebook, Twitter and LinkedIn.                
About Hubbard Feeds:
Hubbard Feeds (www.hubbardfeeds.com), an Alltech company, provides nutrition solutions to help improve the health, performance and well-being of animals. These programs are designed using the latest technology and the best team in the business. Being passionate about animals and our customers is a core value of Hubbard Feeds and the driving force behind "Products and Answers that WORK®." Like Hubbard Feeds on Facebook: www.facebook.com/hubbardfeedsinc.