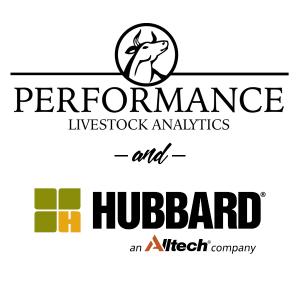 Technology to help producers simplify their feedyard, automate data and analytics
AMES, Iowa, October 23, 2019 - Performance Livestock Analytics (PLA) and Hubbard, an Alltech company, are partnering to help cattle producers make data-driven decisions with the Performance Beef platform. The cloud-based platform automates everything from feeding to financials while connecting the producer to their trusted Hubbard Feeds representative.
"Performance Beef is an intelligence center to help producers improve their profitability and efficiency," says Dane Kuper, CEO and co-founder, Performance Livestock Analytics. "As we continue to grow, we're proud to partner with Hubbard Feeds to deliver an innovative solution to their customers."
With markets in constant flux, producers are often crunching numbers to better their decisions. Performance Beef helps simplify the decision-making process. With real-time data and analytics readily available, users can spend less time on manual tasks and make better data-driven decisions for their operation.
"We're focused on bringing innovation to our customers," says Dan Herold, Beef Nutrition Technical Services Manager, Hubbard. "The partnership with Performance Livestock Analytics provides us access to a digital tool to help our customers improve their profitability, increase their competitive advantage, reduce risk and simplify their lives."
With Performance Beef producers are able to:
●     Eliminate batch sheets, automate delivery
●     Generate real-time, accurate closeouts
●     Analyze trends in feed efficiencies, costs, and performance
●     Track and manage inventory, optimize purchase decisions
●     Create invoices and reports to better track financials and performance
Interested producers should contact their local Hubbard representative for more information. Learn more about Hubbard at www.hubbardfeeds.com or @HubbardFeedsinc on Twitter or Facebook.
Learn more about Performance Livestock Analytics by visiting PerformanceLivestockAnalytics.com or following @PerformanceBeef on Twitter or Facebook.
About Performance Livestock Analytics Inc.
Performance Livestock Analytics provides the leading business operating platform to livestock producers, brokers, risk managers, nutritionists, animal health and animal nutrition companies. The subscription platform helps users better manage all financial, operational and performance data for their livestock operations in one place. For more information, visit PerformanceLivestockAnalytics.com.
About Hubbard Feeds:
Hubbard Feeds (www.hubbardfeeds.com), an Alltech company, provides nutrition solutions to help improve the health, performance and well-being of animals. These programs are designed using the latest technology and the best team in the business. Being passionate about animals and our customers is a core value of Hubbard Feeds and the driving force behind "Products and Answers that WORK®." Like Hubbard Feeds on Facebook: www.facebook.com/hubbardfeedsinc.
MEDIA CONTACT:
Melissa Norby
Performance Livestock Analytics
515-450-9321
Lori Stevermer
Hubbard Feeds
507-420-7213
Lori.Stevermer@hubbardfeeds.com