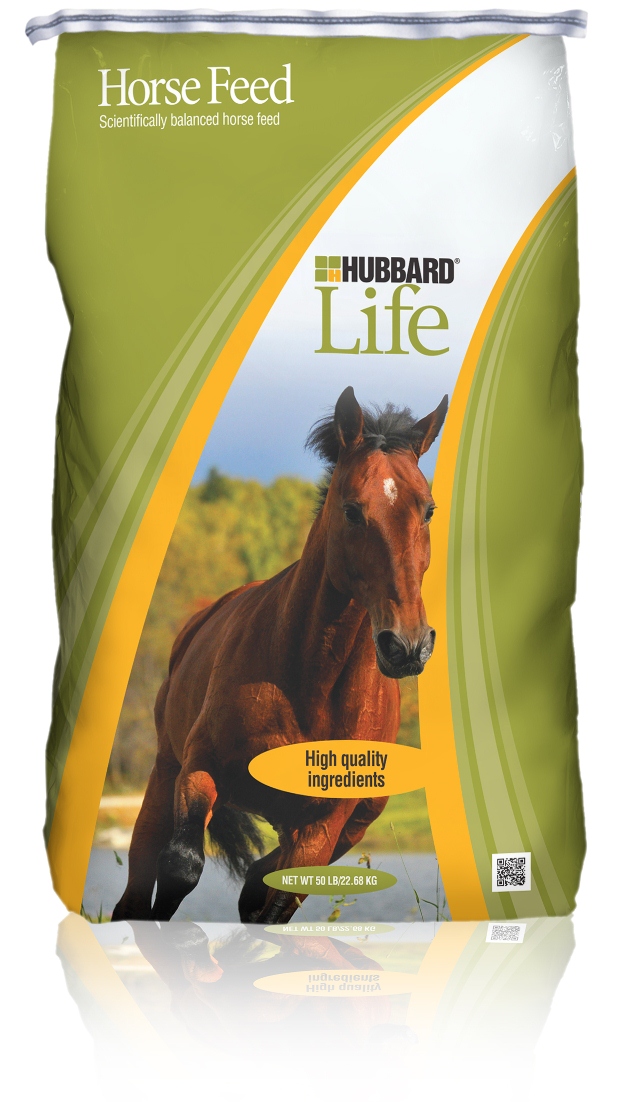 Hubbard® Life Performance Horse Feed is a 12% protein feed specifically designed for the performance horse.  Highly digestible energy sources and high quality proteins are added at optimal levels for the active horse.
About the Product
The combination of high quality ingredients provides a palatable, consistent and completely fortified feed for working horses.
Higher fat levels provide increased caloric intake while minimizing risk due to overfeeding of excessive carbohydrates.
Energy sources satisfy metabolic requirements during both the anaerobic and aerobic phases of exercise.
Part of a Coordinated Product Line
Offering a program of horse products helps to support the nutrient demands of different life stages and activity levels.  It also prevents the need to change brands of feed and the off-feed problems that sometimes result.
Contains Chelated Trace Minerals
The addition of organic minerals is believed to be beneficial because of  the increased uptake of the minerals across the gut wall.  Increased levels of the minerals zinc, copper, manganese and cobalt can help in many biological functions including the immune and reproductive systems.
Organic Selenium
Organic selenium and optimal levels of Vitamin E are added for cell protection in horses that are under the stress of showing, racing, lactating, growing or even low activity animals.
Contains Yeast
The addition of yeast cultures helps increase digestibility of forages and the absorption of nutrients.
Vegetable Oil
Added vegetable oil helps meet energy requirements without overfeeding grain, and improves hair coat condition.
Protein
Hubbard Life Horse Feeds are formulated with select plant protein sources to provide balanced levels of amino acids.  Some of the quality plant protein sources used in Hubbard Life Horse Feeds may include: soybean meal, sunflower meal, canola meal, alfalfa meal and linseed meal.
Energy
Hubbard Life Horse Feeds provide the digestible calories needed for growth and work through a blend of energy rich carbohydrates and fats.  The primary energy sources found in Hubbard Life Horse Feeds may include: oats, barley, corn and vegetable oil.
Nutrient Analysis

Crude Protein, min %
12.0
Crude Fat, min %
6.0
Crude Fiber, max %
10.0
Calcium (Ca), min %
0.9
Calcium, (Ca), max %
1.4
Phosphorus (P), min %
0.6
Copper (Cu), min
45 ppm
Selenium (se), min
0.6 ppm
Zinc (Zn), min
220 ppm
Vitamin A, min
4,600 IU/lb.
Vitamin D, min
460 IU/lb.
Vitamin E, min
100 IU/lb.
Caution
Hubbard Life Performance is formulated specifically for horses and is not intended for other species.
Product Number
#34759—Hubbard® Life Performance (Pelleted)
#34757—Hubbard® Life Performance (Textured)