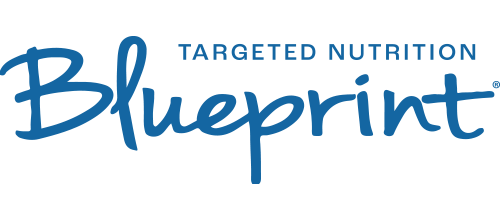 Blueprint® Seedstock Grower 40:22 supplements designed for seedstock producers selling value-added livestock.
About the Product
Low Inclusion – The nutrient density of Blueprint® Seedstock Grower 40:22 allow for low inclusion rates without unnecessary carriers. Producers will often benefit due to a cost per head per day savings on low inclusion supplements versus higher inclusion supplements; even though the cost per ton may be higher with a low inclusion products.
Performance – To ensure proper performance Blueprint® Seedstock Grower 40:22 contain supplemental calcium. This is needed to offset high phosphorus levels and low calcium levels found in corn coproduct feeds. The supplement calcium can also help to reduce instances of urinary calculi (water belly). Supplemental trace minerals are also included to promote growth rate and feed intake. Vitamin E, which has been associated with increased livestock performance, is also included at an enhanced level.
Supplemental Thiamine – Consumption of high levels of corn co-products has been linked to polio. The accepted treatment for polio is intravenous infusion of thiamine. Although no guarantee is implied, daily feeding of supplemental thiamine is thought to be indicated.
Choice of Additives – Proper use of additives can improve animal performance; refer to the product tag for a specific claim. Blueprint® Seedstock Grower 40:22 are available with approved feed additives.
Trace Mineral Fortification - Blueprint® Seedstock Grower 40:22 is fully fortified with Bioplex® organic trace minerals including copper and zinc which play important roles in maximizing animal performance and carcass yield.
| NUTRIENT ANALYSIS |   |
| --- | --- |
| Crude Protein* | 40% |
| Crude Fat, min. | 1% |
| Crude Fiber, max. | 16% |
| Calcium, min. | 5.5% |
| Calcium, max. | 6.6% |
| Phosphorus, min. | None added |
| Salt, min. | 3.5% |
| Salt, max. | 4.5% |
| Potassium, min. | 0.7% |
| Vitamin A, min. | 45,000 IU/LB |
| Vitamin D, min. | 4,500 IU/LB |
| Vitamin E, min. | 100 IU/LB |
*This includes not more than 22% equivalent protein from non-protein nitrogen
Feeding Directions
Thoroughly mix Blueprint® Seedstock Grower 40:22 with grain and roughage. The feeding rate of Blueprint® Seedstock Grower 40:22 is 1.0 pound per head daily. Make ration changes gradually.
A constant supply of clean, fresh drinking water is necessary for optimum results.
Caution
This product, which contains added copper, should not be fed to sheep or related species that have a low tolerance to copper. This product has been formulated specifically for beef cattle and is not intended for other species. 
Follow label directions. Adding higher-than-recommended levels of this supplement to feed containing added selenium is not advisable.
PLEASE NOTE: Hubbard Feeds does not use restricted-use proteins in products and follows both FDA and state requirements regarding the use, handling and storage of restricted-use proteins.
Product Number
#70057 - Blueprint® Seedstock Grower 40:22