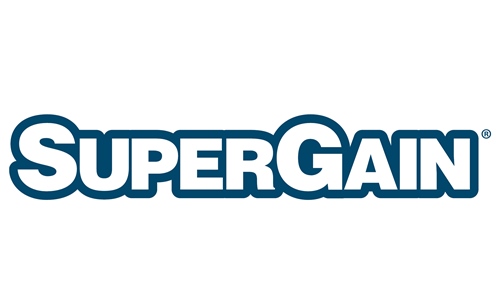 SuperGain 14 is the backbone of the SuperGain program. It is formulated with digestible fiber and fits all basic creep-feeding applications with a combination of inorganic trace minerals and Bioplex® organic trace minerals.
About the Product
SuperGain creep feed formulas are designed to optimize creep intake, promote weight gain and optimize return on investment. The SuperGain program offers multiple formulations that are flexible and convenient and can be used in a variety of creep-feeding scenarios. All products are formulated to contain wheat middlings, which helps create a high-quality pellet and allows for flexibility, with several protein and feeding options.
SuperGain creep feeds are formulated with these Alltech technologies:
Bioplex® reinforces mineral status, which leads to optimal overall health, immune status and feed conversion in the calf.
Sel-Plex® supports calf health and performance.
Yea-Sacc® Extra promotes a smooth transition onto creep feed, enhances feed passage rate, forage digestion, and rumen stability.
| | |
| --- | --- |
| Crude Protein, min% | 14.0 |
| Crude Fat, min % | 2.5 |
| Crude Fiber, max % | 17.0 |
| Calcium (Ca), min % | 0.7 |
| Calcium (Ca), max % | 1.2 |
| Phosphorus, min % | 0.6 |
| Salt (NaCl), min % | 0.3 |
| Salt (NaCl), max % | 0.8 |
| Potassium (K), min % | 0.7 |
| Vitamin A, min IU/LB | 3,300 |
| Vitamin D, min IU/LB | 300 |
| Vitamin E, min IU/LB | 5 |
Feeding Directions
SuperGain® 14 is a feed for suckling calves from birth to weaning. It is recommended to be fed free-choice to suckling calves in a creep along with forage or pasture. Calves will typically consume 1 - 1.5% of their body weight daily. Over consumption (greater than 2% body weight) may result in digestive disorders. Remove spoiled feed regularly. Feed plain salt free-choice. A constant supply of clean, fresh drinking water is also necessary.
Caution
This product, which contains added copper, must not be fed to sheep or related species that have a low tolerance level to copper.
Product Number
#3035—SuperGain 14
All products may not be available in all market areas and other products may be offered. Check with your local Hubbard shipping plant or sales representative.