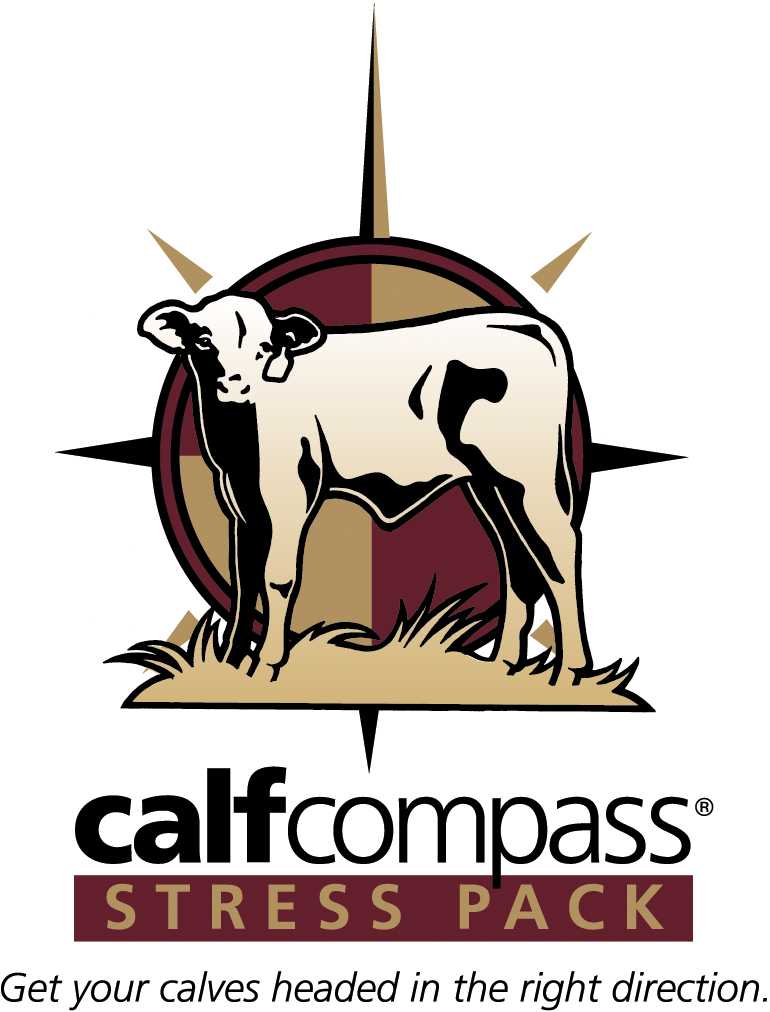 Calf Compass® is a stress pack designed for promoting calf health and vigor during periods of stress such as weaning, shipping/receiving, adverse weather, and health challenges. Calf Compass contains a blend of key ingredients specially selected to maintain health and performance without the use of medications. Calf Compass can be added to milk replacers or whole milk. 
About the Product
Why Use Calf Compass?
Calves can experience many stressful periods in their young life due to environment (weather, housing, pathogen load), transport (shipping/receiving), nutrition (weaning), and management (grouping strategies). Calf Compass can help support the calf's immune system and maintain health during these times of challenge.

Calf Compass does not contain antibiotics, but a blend of prebiotics and probiotics to support immune function and healthy gut microflora.
Key Ingredients
Serum & Plasma Proteins – for increased immune protection, reduced bacterial growth, reduced scour severity and improved performance.

Bio-Mos® (mannanoligosaccharides) – helps to block pathogens from adhering to the intestinal wall and enhances cell-medicated immunity.

Vitamin E – elevated levels of vitamin E serve as an antioxidant.

FOS (fructoligosaccharides) – a non-digestible sugar that stimulates the growth of beneficial bacteria and inhibits growth of pathogens in the intestine.

Direct-Fed Microbials – five strains of lactic acid producing bacteria to re-inoculate the digestive system.

Encapsulated Essential Oils – a unique essential oil product that because of the proprietary encapsulation process does not adversely affect intake. Essential oils have antimicrobial properties which can inhibit or kill bacteria.

Complexed Zinc, Copper and Manganese – to ensure optimal function of the immune system.
Feeding Directions
Mixing and Feeding Directions
Add 1 scoop of Calf Compass per 2 quarts of reconstituted milk replacer or whole milk at the rate of 20 grams per calf per feeding. (The scoop enclosed in Calf Compass holds 20 grams of powder level full). For best results, feed continuously during the entire milk feeding phase, twice a day for the first 14 days, or during periods of stress. 

Store in a cool, dry place for maximum stability. Avoid leaving package open for extended periods of time.
Product Number
#8210–Calf Compass®, 4 X 8 lb. pouch