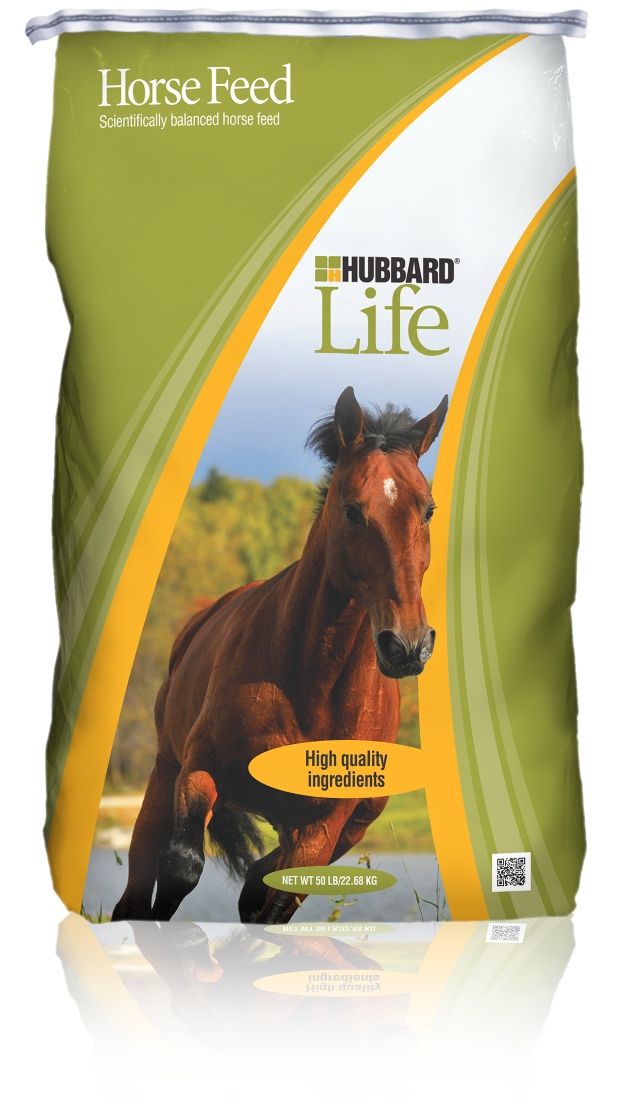 Hubbard® Life 30% Horse Supplement contains the optimal level of protein, energy, minerals and vitamins to meet the nutrient requirements of your horse. Hubbard Life 30% Horse Supplement is formulated to be fed with home-grown grains, as a top dress or in combination with other Hubbard Life horse feeds when stress or heavy work requires additional supplementation. Hubbard Life 30% Horse Supplement contains high quality protein products, minerals, vitamins and molasses in a pellet to reduce sorting and feed wastage.
About the Product
For use with grass and grass-mix hays.
A protein, vitamin and mineral supplement for all horses.
Appropriate for foals, weanlings, yearlings, pregnant mares, breeding stallions and performance horses.
Can be fed alone to mature horses being maintained on an all forage diet or to young and performance horses needing additional protein, vitamins and minerals.
When fed alone, this pellet acts as a low calorie, concentrated source of protein, vitamins and minerals which are often marginal in all-forage diets.
Can be mixed with unfortified grains to form balanced grain mixes.
When mixed with cereal grains in the proper ratios, these pellets are appropriate for horses in any stage of development and in any level of training.
Protein
Major ingredients used provide a blended source of proteins for a balanced level of amino acids including dehulled soybean meal, sunflower meal and alfalfa meal. The protein levels in Hubbard Life 30% Supplement is formulated to support maximum performance, provide a balanced source of amino acids and natural high levels of lysine.
Minerals and Vitamins
Hubbard Life 30% Supplement is fortified with the optimal levels of minerals and vitamins for proper growth and development of the skeletal and muscle structure. This added fortification also provides for good immune system performance.
Mineral (Macro and Micro) Sources
Salt
Copper sulfate
Calcium carbonate
Cobalt carbonate
Dicalcium phosphate
Sodium selenite
Zinc oxide
Ferrous sulfate
EDDI (iodine)
Manganous oxide
Vitamin Sources
A accetate
Niacin
D supplement
Riboflavin
B12 supplement
E supplement
Choline chloride
Vitamin K
Calcium pantothenate
Folic acid
Pyridoxine
Thiamine
Nutrient Analysis

Crude Protein, min %
30.0
Crude Fat, min %
2.5
Crude Fiber, max %
5.0
Calcium (Ca), min %
4.6
Calcium, (Ca), max %
5.4
Phosphorus (P), min %
2.0
Copper, min
300 ppm
Selenium (Se), min
5.0 ppm
Vitamin A, min
50,000 IU/lb.
Vitamin D, min
5,000 IU/lb.
Vitamin E, min
600 IU/lb.
Caution
Hubbard Life 30% Supplement is formulated specifically for horses and is not intended for other species.
Product Number
 #34752—Hubbard® Life 30% Supplement (Pelleted)