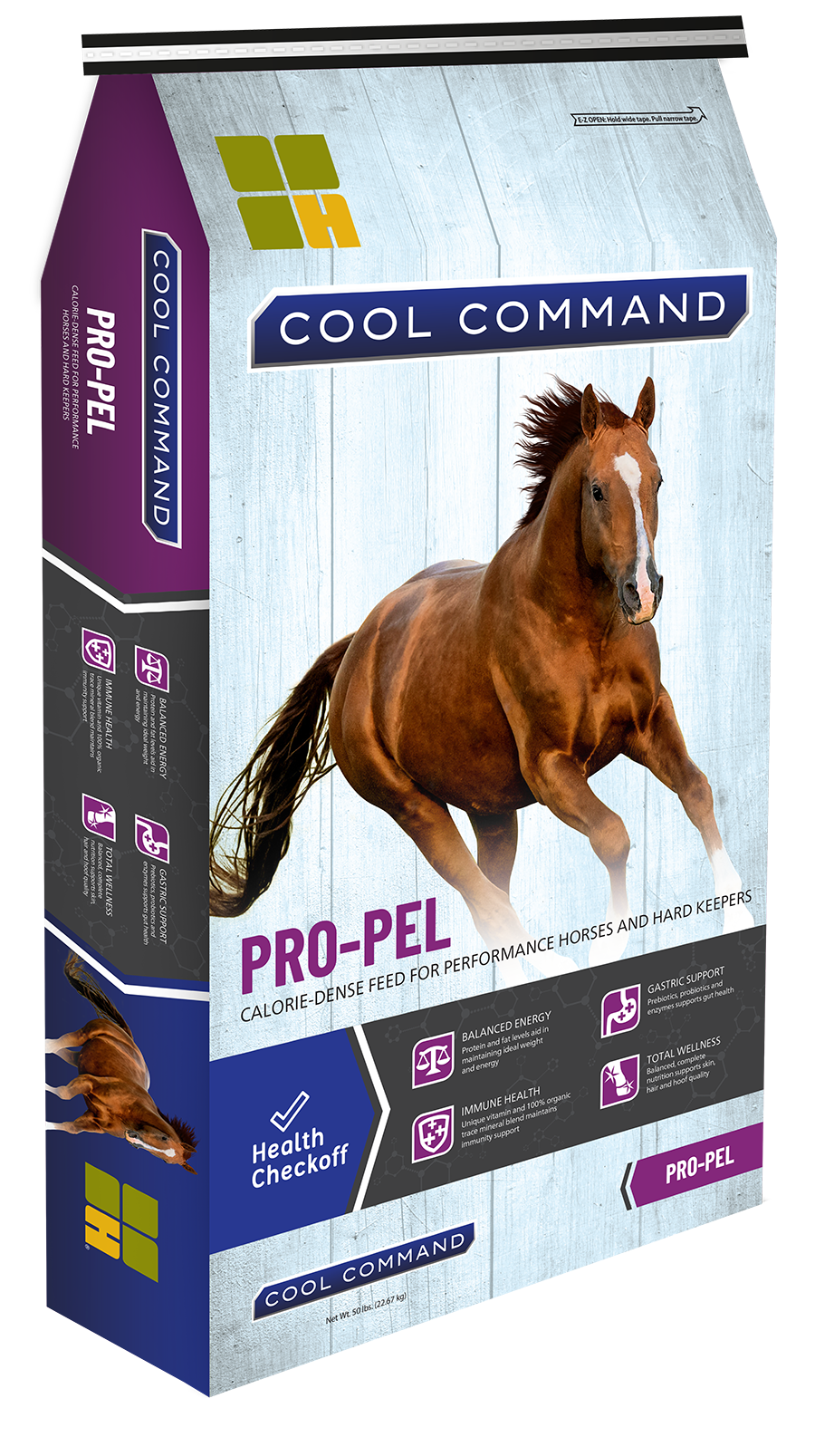 Cool Command® Pro-Pel™ is a 14% protein, 10% fat texturized feed that has been uniquely tailored to support horses with higher energy demands. Whether your horse is an elite equine athlete, a weekend show warrior or simply inclined to be somewhat thin, this feed has you covered. 
Why choose Cool Command?
Cool Command now features Total Replacement Technology®, which means that the minerals used in your horse's feed are organic trace minerals. Organic trace minerals are more easily absorbed and utilized in the gut, which means your horse gets more benefit from less.
Organic trace minerals, combined with high-quality nutrition, aid in improving skin, hair and hoof condition, and the decreased starch levels offer cool energy for horses who have enough of their own. You can feed your horse a controlled starch formula without sacrificing advanced nutrition technology and quality.
---
---
About the Product
Benefits:
100% organic trace mineral inclusion 

Bioplex® copper, zinc, manganese and cobalt promote more effective mineral absorption, helping to enhance hair, skin and hoof quality 

Easier to digest 

Made with exclusive Allzyme™ enzymatic technology from Alltech® for improved digestibility  

Calorie-dense 

Optimal (10%) fat level contributes to ideal weight and energy balance 

Promotes hindgut health 

Pro and prebiotic technologies (Yea-Sacc® and Actigen®) enhance the activity of beneficial hindgut bacteria 

Aids with proper immune and cellular health 

High levels of vitamin E and organic selenium (Sel-Plex®) help to maintain healthy cells and boost immunity 
Nutrient Analysis

Crude Protein, min %

14.0

Lysine, min. %

1.0

Methionine, min. %

0.4

Threonine, min %

0.5

Tryptophan, min %

0.1

Crude Fat, min. %

10.0

Crude Fiber, max. %

14.0

Acid Detergent Fiber (ADF), max %

18.0

Neutral Detergent Fiber (NDF), max %

31.0

Starch, max %

12.0

Sugar, max %

9.0

Calcium (Ca), min. %

0.8

Calcium (Ca), max. %

1.3

Phosphorus (P), min. %

0.5

Copper (Cu), min.

31 ppm

Selenium (Se), min.

0.6 ppm

Zinc (Zn), min.

139 ppm
Vitamin A, min.

3,800 IU/lb

Vitamin D3, min

380 IU/lb

Vitamin E, min.

151 IU/lb

Biotin, min

0.4 mg/lb
Feeding Directions
Feed Cool Command Pro-Pel to growing, breeding and working horses. Follow the suggested feeding program below. A constant supply of clean, fresh water is necessary for optimum results.
Adjust suggested feeding rate to fit needs of individual horses.  Adjustments of ±10%, depending upon weight, age and activity, are common.
Suggested Feeding Program:
Feed according to the following chart along with good-quality hay (1.0 - 2 lbs./100 lbs. of body weight), free-choice mineral and fresh, clean water.
Please note: These amounts are suggestions and may be adjusted according to forage quality, body condition and environment.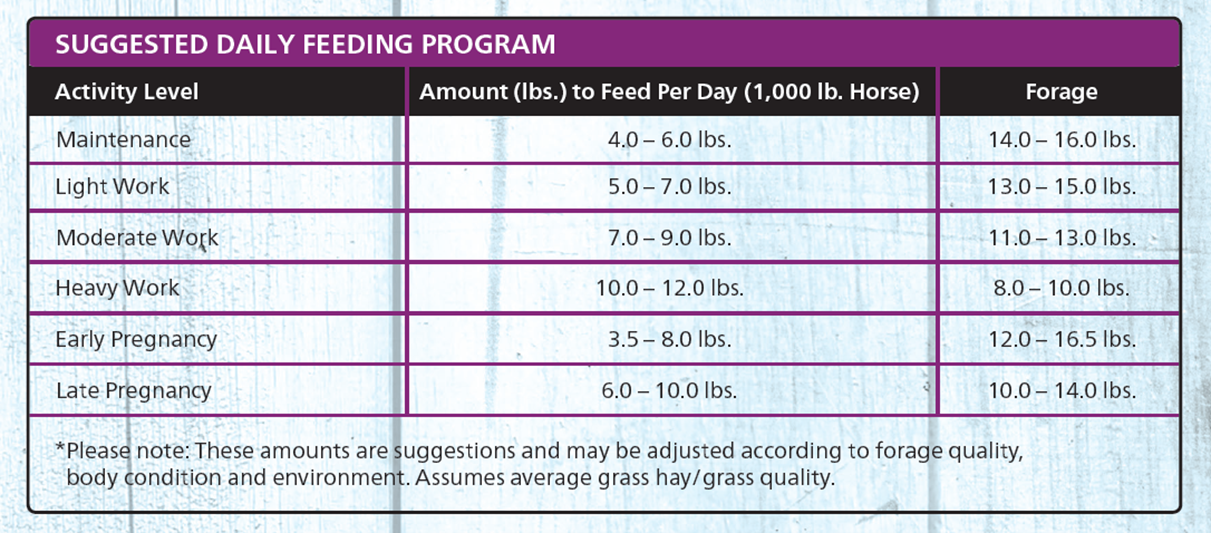 General Guidelines
Feeding Tips:
Cool Command Pro-Pel should be fed along with at least 1% of body weight per day of good-quality forage. Maximizing the contribution of forage reduces digestive upset.
Do not feed more than 5 pounds in a single feeding.
Provide free-choice access to salt and fresh water.
Level of intake will vary depending on level of activity, desired body condition, season and quantity and quality of available forage.
Management Tips:
De-worm at least 4 times each year.
Trim your horse's feet frequently.
Keep your horse's teeth floated.
A physical examination should be performed annually on all horses by a qualified veterinarian.
Caution
Cool Command Pro-Pel is formulated specifically for horses and is not intended for other species.
Product Number
#74624 - Cool Command® Pro-Pel™
This product is not available in all regions.