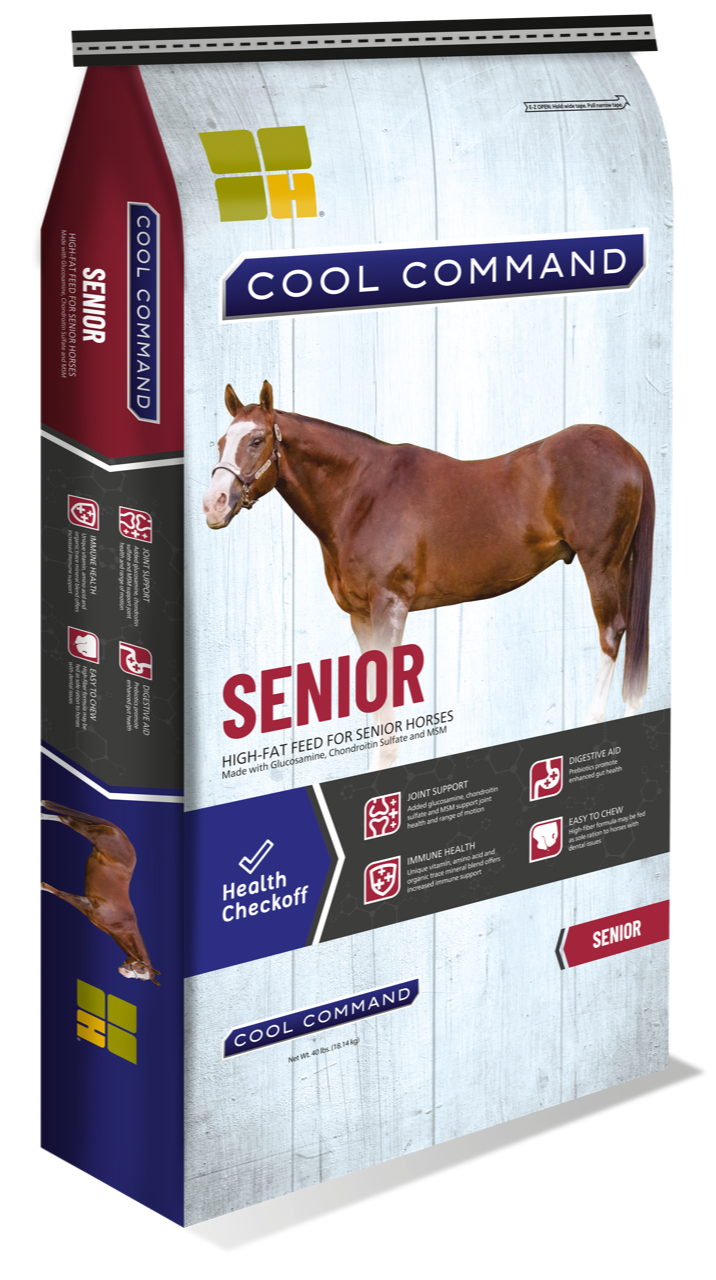 Cool Command® Senior Horse Feed – easy-to-chew senior horse feed with joint health support and high-fat.
A high-fat senior horse feed with glucosamine, chondroitin and MSM (organic sulfur) in an easy-to-chew formula.
Cool Command Senior horse feed is the best horse feed recommended for:
Horses who have trouble maintaining weight and consuming the required calories without additional starches or sugars.
Horses with discomfort during activity who require a maintenance amount of joint health support.
Horses with damaged or worn teeth who cannot consume adequate forage.
Horses 15+ years of age – horse 15 years of age are generally considered senior horses.
About the Product
JOINT SUPPORT: Added glucosamine, chondroitin sulfate and MSM support joint health and range of motion
EASY TO CHEW: High-fiber formula may be fed as sole ration to horses with dental issues
BODY CONDITION: High-fat, extremely palatable mix promotes healthy weight maintenance
HOOF AND COAT HEALTH: High-quality nutrition aids in improving skin, hair and hoof condition
ADVANCED FEED TECHNOLOGY: Formulated with Alltech® solutions
DIGESTIVE AID: Prebiotics promote enhanced gut health
IMMUNE HEALTH: Unique vitamin, amino acid and organic trace mineral blend offers increased immune support
Feed for Senior Horses
There is no exact age that a horse is considered a senior, but generally horses begin to face nutritional challenges associated with aging at 15 years of age. Cool Command Senior horse feed is for horses facing challenges, such as weight gain and maintenance, damaged or worn teeth, and joint discomfort with activity.
Utilizing a high-fat and high-fiber formula, Cool Command Senior horse feed is a complete feed to help maintain ideal body condition and feed intake. The multiform, corn-free feed features a fat nugget for extra calories and is ideal for supporting healthy weight gain and maintaining healthy weight in hard keepers. Horses with damaged or worn teeth benefit from our easy-to-chew formula, with high-fiber to accommodate horses for whom chewing long-stem hay is no longer possible, allowing it to be fed without additional forage.
Joint health can contribute to a horse's overall happiness. Inflammation is the number one culprit when it comes to joint discomfort. Because inflammation knows no age, supplementing the equine diet with proven ingredients such as glucosamine, chondroitin sulfate and MSM, that support health inflammatory responses can not only support keeping joints healthy, but help support future joint health too.
Formulated to support total health for senior horses, Cool Command Senior horse feed offers the quality nutrition they need. The science is advanced, but our philosophy is simple – good health starts from within.
Nutrient Analysis

Crude Protein, min %

14.0

Crude Fat, min %

8.0

Crude Fiber, max %

20.0

Starch, max %

13.0

Sugars, max %

7.2

Calcium (Ca), min %

0.9

Calcium, (Ca), max %

1.4

Phosphorus (P), min %

0.5

Zinc (Zn), min

80 ppm

Copper (Cu), min

45 ppm

Selenium (Se), min

0.3 ppm

Vitamin A, min

4,000 IU/lb.

Vitamin D, min

400 IU/lb.

Vitamin E, min

100 IU/lb.

Biotin, min

0.6 mg/lb.

*Glucosamine HCL, min

500 mg/lb.

*Chondroitin Sulfate, min

350 mg/lb.

*Methylsulfonylmethane, min

500 mg/lb.
*Not recognized as an essential dietary nutrient. 
Feeding Directions
Feed Cool Command Multi-Form Senior Texuried according to the following chart along with good quality hay (1.0 – 2 lbs/100 lbs of body weight), free choice mineral and fresh, clean water. This is an ideal ration for horses that cannot eat hays/pastures due to poor teeth, age or other health related problems such as horses affected with a dust sensitive condition, such as heaves.
| | |
| --- | --- |
| Activity Level | Amount to Feed/Per Day (1000 lb Horse) |
| Maintenance | 5.0 – 7.5 lbs |
| Performance Light | 6.0 – 8.0 lbs |
| Performance Moderate | 7.0 – 9.0 lbs |
| Performance Heavy | 8.0 – 10.0 lbs |
| | |
| Complete Feed – no hay option | 14.0 – 16.0 lbs |
*Please note: These amounts are suggestions and may be adjusted according to forage quality, body condition and environment.
Caution
Cool Command Senior horse feed is formulated specifically for horses and is not intended for other species.