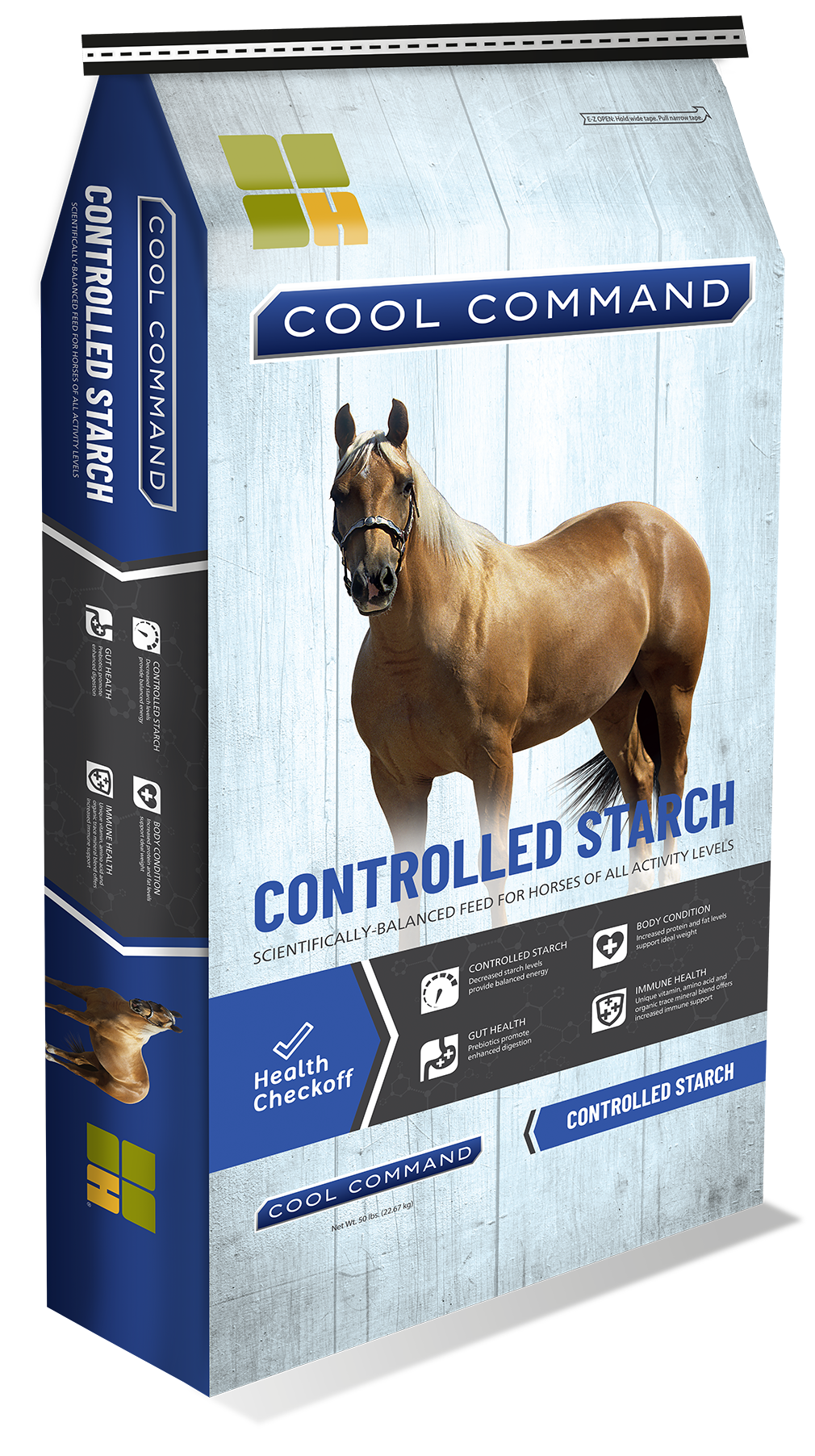 Horse feeds with lower amounts of carbohydrates are suggested for horses with certain metabolic concerns. Cool Command® Controlled Starch contains the optimal level of protein, mineral and vitamin fortification to meet the specific nutrient demands of your horse without excessive carbohydrates. Energy levels are still maintained in the product by use of plant oils.
About the Product
Why choose Cool Command Controlled Starch?
Cool Command now features Total Replacement Technology®, which means that the minerals used in your horse's feed are organic trace minerals. Organic trace minerals are more easily absorbed and utilized in the gut, which means your horse gets more benefit from less.
Organic trace minerals, combined with high-quality nutrition, aid in improving skin, hair and hoof condition, and the decreased starch levels offer cool energy for horses who have enough of their own. You can feed your horse a controlled starch formula without sacrificing advanced nutrition technology and quality.
Benefits from Ingredients:
CONTROLLED STARCH: Decreased starch levels provide balanced energy
BODY CONDITION: Increased protein and fat levels support ideal weight
GUT HEALTH: Prebiotics promote enhanced digestion
IMMUNE HEALTH: The unique vitamin, amino acid and organic trace mineral blend offers increased immune support
Nutrient Analysis

Crude Protein, min %
14.0
Crude Fat, min %
7.0
Crude Fiber, max %
17.0
Calcium (Ca), min %
0.7
Calcium, (Ca), max %
1.2
Phosphorus (P), min %
0.7
Zinc (Zn), min
190 ppm
Copper (Cu), min
50 ppm
Selenium (se), min
0.6 ppm
Vitamin A, min
4,000 IU/lb.
Vitamin D, min
400 IU/lb.
Vitamin E, min
150 IU/lb.
Caution
Cool Command Controlled Starch is formulated specifically for horses and is not intended for other species.