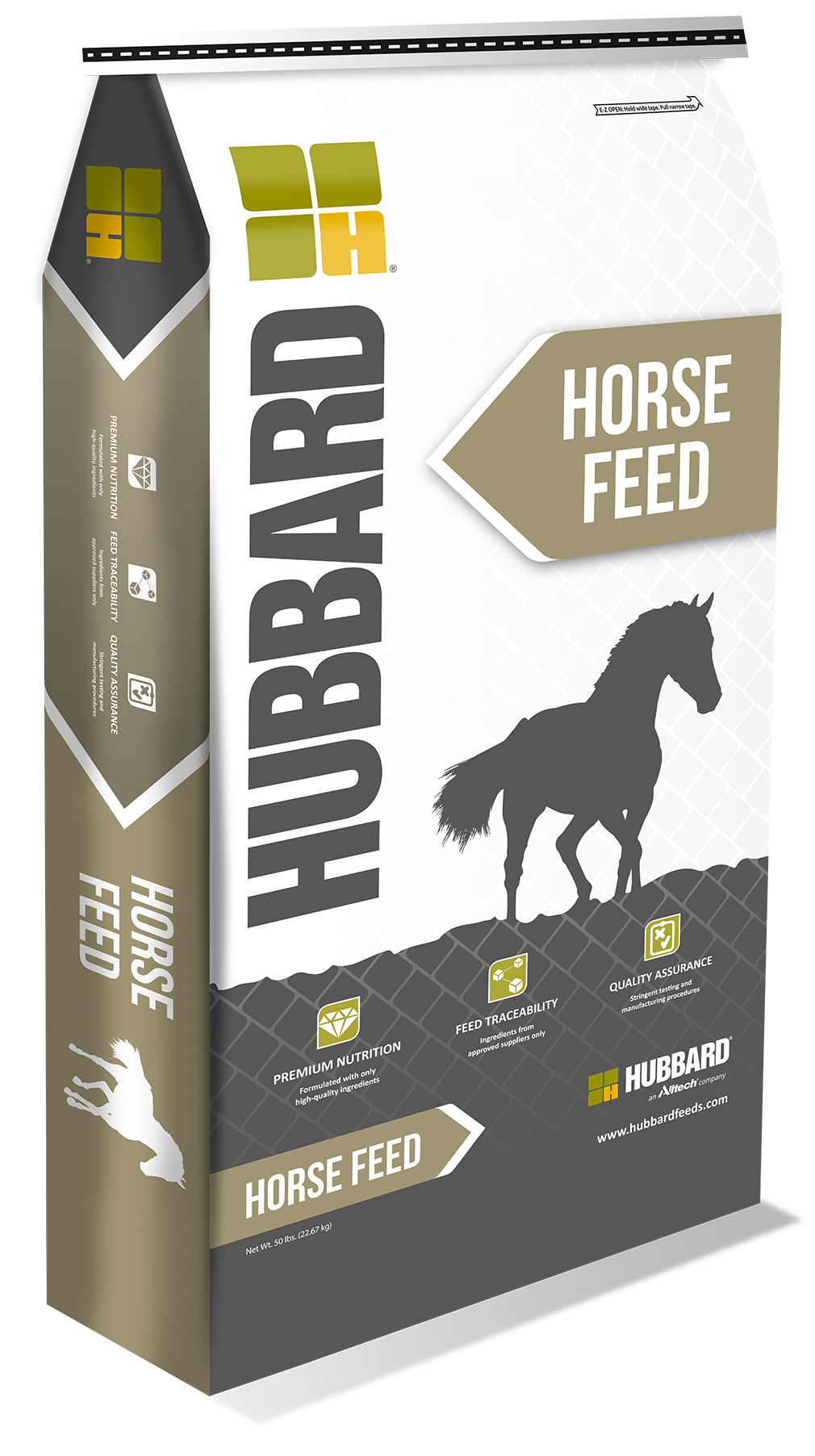 Hubbard Equi-Star® is a fully fortified feed that supplies balanced nutrition for the maintenance of pleasure horses.
About the Product
Formulated specifically for horses.
Available in textured and pelleted form.
Meets the nutritional requirements of pleasure horses.
Added Vitamin E.
Nutrient Analysis

Crude Protein, min %
12.0
Crude Fat, min %
3.0
Crude Fiber, max %
14.0
Calcium, min %
0.8
Calcium, max %
1.2
Phosphorus, min %
0.5
Copper, min
25 ppm
Selenium, min
0.6 ppm
Zinc, min
80 ppm
Vitamin A, min
3,000 IU/lb.
Vitamin D, min
300 IU/lb.
Vitamin E, min
75 IU/lb.
Feeding Directions
For the maintenance of pleasure horses feed ½ to 1 ¾  pounds per 100 pound body weight per day. Seasons, types of roughage and the general condition of the horse will also affect daily feed allowances. Detailed feeding suggestions are available upon request.
In addition, provide good quality hay and/or pasture. Always provide free access to clean, fresh water and salt. We recommend that you do not feed additional proteins, vitamins or minerals except on the advice of a nutritionist. Consult your veterinarian concerning proper health programs, and always maintain a good worm control program.
Caution
This product, which contains added copper, should not be fed to sheep or related species that have a low tolerance level to copper.
Equi-Star is formulated specifically for horses and is not intended for other species.
Product Number
#34753—Hubbard Equi-Star (Pelleted)
#34755—Hubbard Equi-Star (Textured)