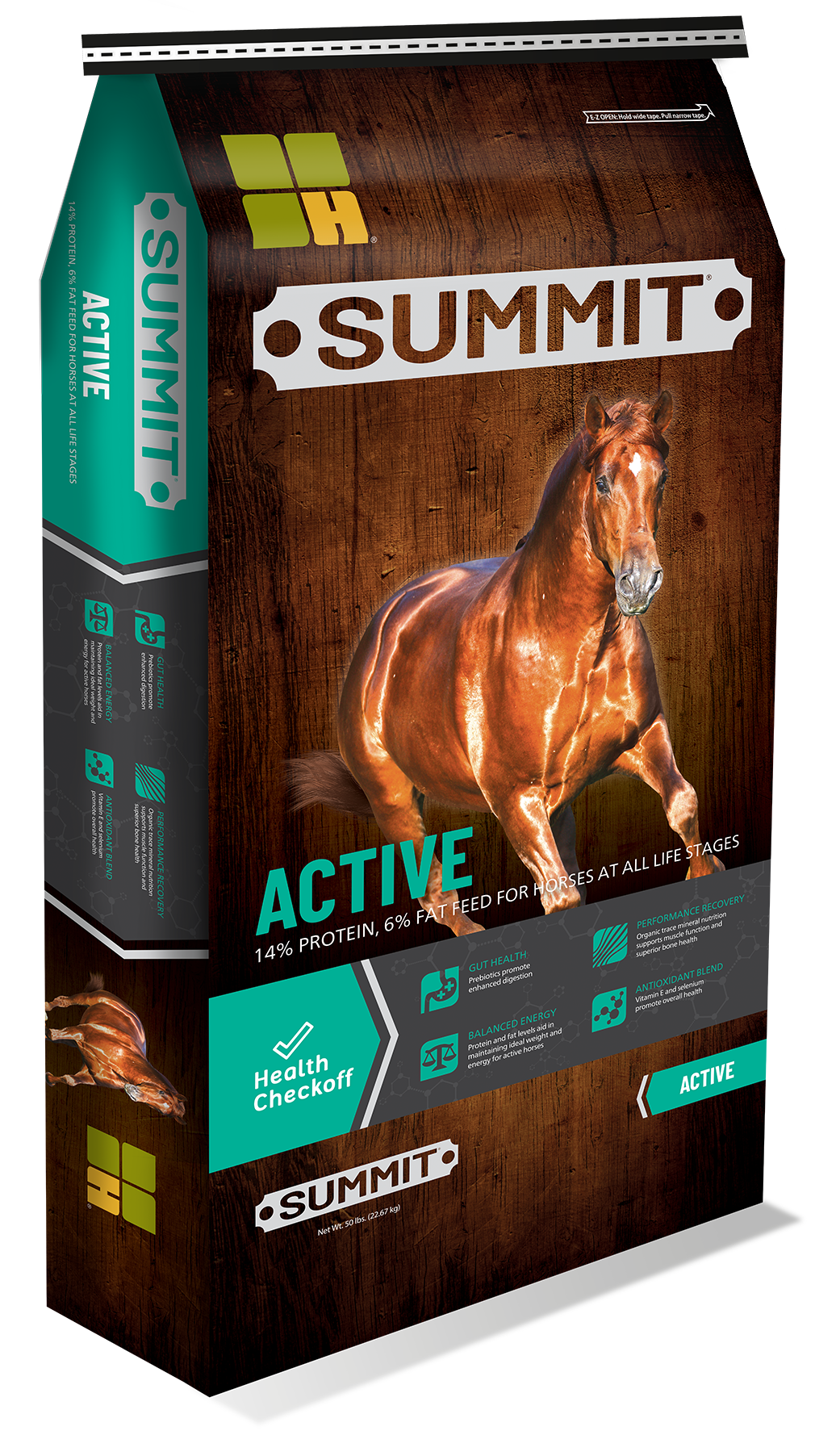 Summit® Active is a 14% protein feed specifically designed for the performance horse.  Highly digestible energy sources and high quality proteins are added at optimal levels for the active horse.
About the Product
Why choose SUMMIT ACTIVE?
SUMMIT Active now features Total Replacement Technology®, which means that the minerals used in your horse's feed are organic trace minerals. Organic trace minerals are more easily absorbed and utilized in the gut, which means that your horse gets more benefit from less.
When combined with the right vitamins and amino acids, organic trace minerals offer increased immune support and performance. Whether your horse is on the track, in the show ring or part of your breeding stock, high-quality nutrition, like SUMMIT Active, supports optimal health and performance.
Benefits from Ingredients
GUT HEALTH: Prebiotics promote enhanced digestion
PERFORMANCE RECOVERY: Organic trace mineral nutrition supports muscle function and superior bone health
BALANCED ENERGY: Protein and fat levels aid in maintaining ideal weight and energy for performance horses
ANTIOXIDANT BLEND: Vitamin E and selenium promote overall health
Nutrient Analysis

Crude Protein, min %
14.0
Crude Fat, min %
6.0
Crude Fiber, max %
10.0
Calcium (Ca), min %
0.7
Calcium, (Ca), max %
1.2
Phosphorus (P), min %
0.6
Zinc (Zn), min
220 ppm
Copper (Cu), min
45 ppm
Selenium (Se), min
0.6 ppm
Vitamin A, min
4,000 IU/lb.
Vitamin D, min
400 IU/lb.
Vitamin E, min
100 IU/lb.
Caution
Summit Active is formulated specifically for horses and is not intended for other species.