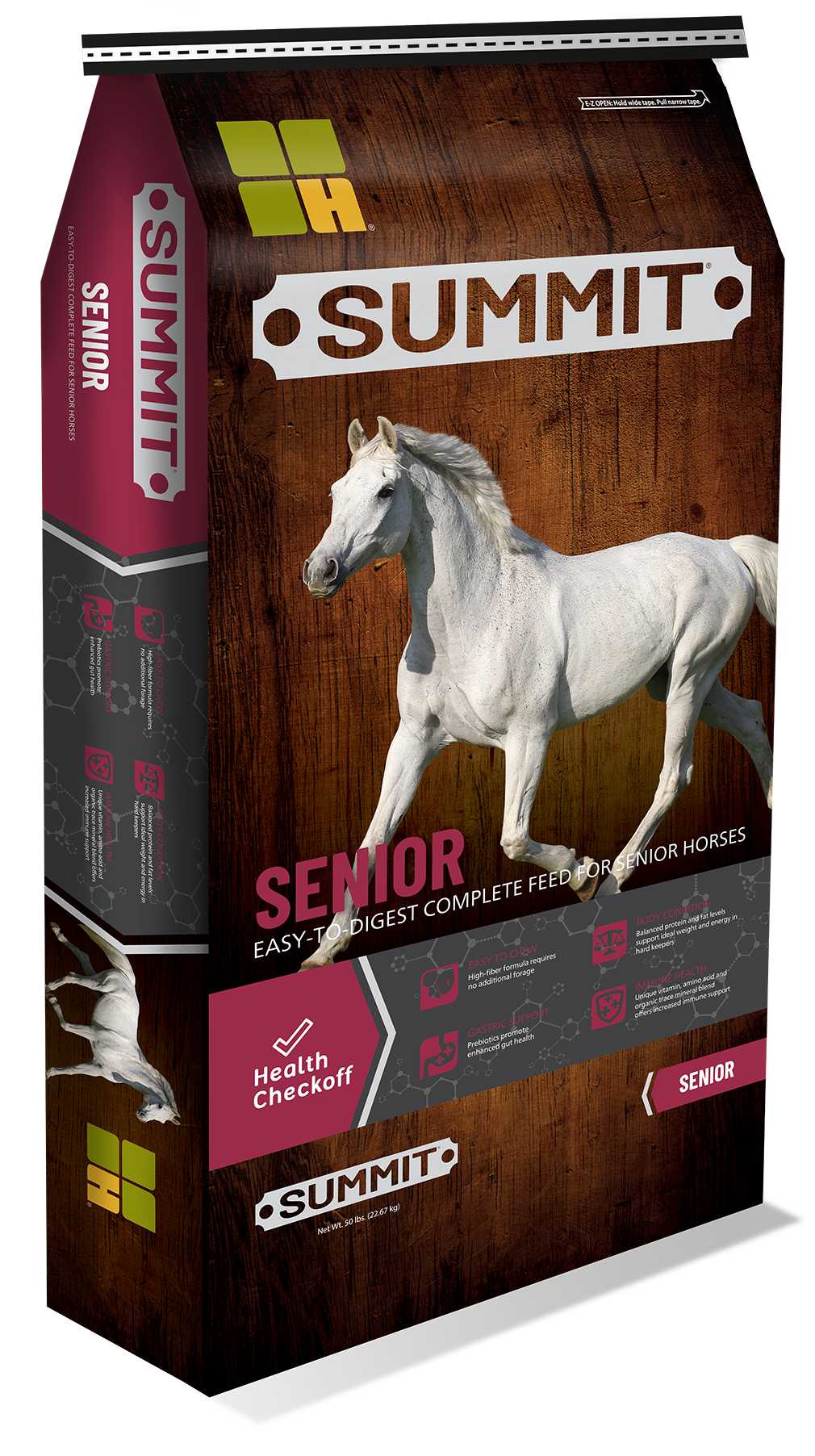 Summit® Senior is a 14% protein feed that is formulated for the older or inactive horse that may have teeth or other health issues that prevents them from consuming adequate amounts of feed.  Added yeast improves digestibility and nutrient uptake. Highly digestible soluble fiber sources compensate for the reduce feed digestion in aging and stressed horses.
Nutrient Analysis

Crude Protein, min %
14.0
Crude Fat, min %
7.0
Crude Fiber, max %
18.0
Calcium (Ca), min-max %
0.8-1.3
Phosphorus (P), min %
0.6
Copper (Cu), min
40 ppm
Zinc (Zn), min
80 ppm
Selenium (Se), min
0.3 ppm
Vitamin A, min
4,000 IU/lb.
Vitamin D, min
600 IU/lb.
Vitamin E, min
150 IU/lb.
Feeding Directions
Feed Summit Senior to horses that cannot eat hays/pastures due to poor teeth, age or other health-related problems.
Summit Senior is also an ideal ration for horses affected with a dust-sensitive condition, such as heaves.
A constant supply of clean, fresh water is necessary for optimum results.
Suggested Feeding Program
Feed according to the following chart along with good quality hay/pasture (1.0 - 2 lbs/100 lbs of body weight), free choice mineral and fresh, clean water. 
Please note: These amounts are suggestions and may be adjusted according to forage quality, body condition and environment. 
Activity Level 

Amount to Feed/Per Day

(1000 lb. Horse)

Maintenance
5.0-7.5 lbs.
Performance Light
6.0-8.0 lbs.
Performance Moderate
7.0-9.0 lbs.
Performance Heavy
8.0-10.0 lbs.
Complete feed - no hay option
14-16 lbs.
Feeding Tips
Provide free choice access to salt and fresh water.
Level of intake will vary depending on level of activity, desired body condition, season and quantity and quality of available forage.
Although no additional hay feeding may be necessary, it is recommended that horses be provided with 0.5 to 1 pounds of hay per 100 pounds of body weight. Provide fresh, clean water at all times.
Cool Command Balancer 30 can be top-dressed on Summit Senior at the rate of 0.5 to 2 pounds per head per day.
Summit Senior is also formulated to be fed to the pleasure horse or performance horses. No additional feed stuffs are necessary.
Management Tips
Worm at least 4 times each year.
Trim horse's feet frequently.
Keep your horse's teeth floated.
A physical examination should be performed annually on all horses by your veterinarian.
Caution
Summit Senior is formulated specifically for horses and is not intended for other species.