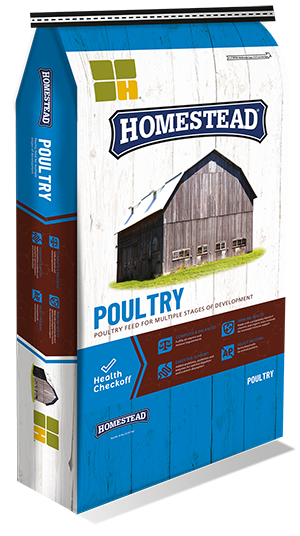 Homestead® Turkey Starter is a nutrient dense, carefully balanced diet for raising turkeys until 9-10 weeks of age. Homestead Turkey Starter contains no antibiotics or animal proteins.
About the Product
Why choose Homestead Turkey Starter?
Homestead Turkey Starter features Total Replacement Technology, which means that the minerals used in your turkeys' feed are organic trace minerals. Organic trace minerals are more easily absorbed and utilized in the gut, which means your chicks will get more benefit from less.
Using only quality, traceable ingredients Homestead Turkey Starter makes sure your turkeys have high-quality nutrition to support optimal growth and performance. Our formula, available in non-medicated and medicated, has no animal proteins and fats. Homestead Turkey Starter is a wholesome way to get your young turkeys off to a healthy start.
DIGESTIVE SUPPORT: Added prebiotics, probiotics and enzymes for better digestion and nutrient absorption
IMMUNE HEALTH: Made with a proprietary blend of vitamins and organic trace minerals for increased immune support
COMPLETE & BALANCED: Fulfills all vitamin and nutrient requirements
SELECT PROTEINS: Formulated with no animal proteins
Nutrient Analysis

Crude Protein, min %
26.0
Lysine, min %
1.7
Methioine, min %
0.68
Crude Fat, min %
2.5
Crude Fiber, max %
5.0
Calcium, (Ca), min %
1.2
Calcium (Ca), max %
1.7
Phosphorus (P), min %
0.8
Salt  (NaCl), min %
0.2
Salt (NaCl), max %
0.7
Feeding Directions
Feed Homestead Turkey Starter continuously as the sole ration until the birds weigh about 15 pounds. Around 15 pounds body weight, then switch to Homestead Chick Starter/Grower as the sole ration to help prevent leg issues. 
Poultry should have access to clean, fresh water at all times. When starting day-old birds or after moving or transporting birds, give access to water before putting feed in the feeders.
When birds have access to coarse litter or whole grains, an insoluble grit should be fed. Limit intake of grit to 1 pound per 100 pounds of feed or 2 pounds per 100 birds per week. Grit can be blended with their regular ration or offered free choice in a separate feeder.
Do not allow feeders to run empty or stale feed to accumulate.
Never feed any feedstuffs that are moldy, musty or suspect in any way.
Caution
Homestead Turkey Starter is formulated specifically for poultry and should not be fed to other species or to poultry in large commercial operations where a more customized diet would be more appropriate.
Product Number
Non-Medicated: #34744—Homestead® Turkey Starter NAP/NAB
Medicated: #34745—Homestead® Turkey Starter AM.0215 NAP/NAB