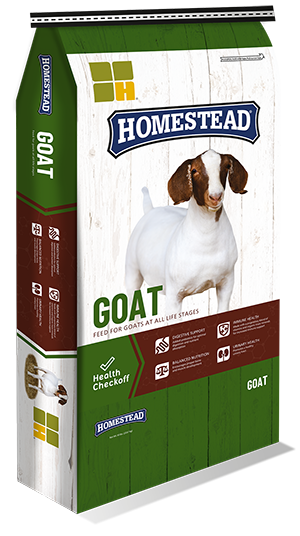 Homestead® Goat Lactator is a palatable, nutrient dense goat lactation ration designed to meet the nutritional needs of lactating does. 
Homestead® Dry Goat pellet is designed to maintain body condition in dry goats and help prevent any metabolic issues associated from freshening.
About the Product
Palatability
A highly palatable, scientifically formulated feed made with high quality protein sources and select grains.
Pelleted or Texturized
Pelleted and texturized products reduce amount of separation of ingredients, therefore reducing feed wastage.
Added Yeast
Research has suggested that the addition of yeast in the diet will create an environment in the rumen that allows the "bugs" to work more efficiently for better fiber (hay and pasture) utilization.
Anion/cation balance
To help prevent metabolic problem in pre-lactating doe, special attention has been given to DCAB related level in the dry goat ration.
Part of a Complete Feeding Program
Helps with the optimal growth of the reproduction related tissues (udder, GI tract, bone) in the development of excellent milking replacements.
Also supplies proper nutrition for does already in the milking phase for optimal milk volumes."
Mineral Fortification
Special care is given to ensure that the levels of trace minerals, including zinc are added to the feeds. In addition, new technologies have produced more readily absorbed minerals called proteinated minerals including an organic selenium product on the market, Sel-Plex®. These minerals have been incorporated into all the Homestead® Goat Feeds.
Vitamin Fortification
In addition to the proper levels of vitamins A, D and E, the B-complex vitamins have been added to help production and performance shine in the face of stressors like fast growth, heavy milking, heat and transporting.
Goat milk is higher in protein and fat than cow's milk.
Goat milk will form a fine, soft curd during digestion that helps with digestion in some children and older adults who have a problem digesting cow milk.
Make sure that colostrum that kids first consume is from a CAE (caprine arthritis encephalitis) negative doe.
Try to dry a dairy goat at 6 to 8 weeks before kidding.
Watch for overweight bucks as in they will become inefficient breeders.
Nutrient Analysis

 
#36244
Goat Lactator Pelleted
#36236
Lactator Texturized
#36234
Dry Goat Pellet
Crude Protein, min %
18.0
16.0
17.0
Crude Fat, min, %
4.5
4.0
3.5
Crude Fiber, max, %
14.0
6.1
14.0
Calcium (Ca), min-max, %
0.9-1.4
0.5-1.0
0.9-1.4
Phosphorus (P), min, %
0.5
0.4
0.7
Salt (NaCl), min-max, %
0.5-1.0
0.4-0.9
0.7-1.2
Copper (Cu), min, ppm
35
25
30
Selenium (Se), min, ppm
0.6
0.45
0.88
Vitamin A, min, IU/lb.
15,000
6,600
10,000
Vitamin D, min, IU/lb.
1,500
1,600
2,500
Vitamin E, min, IU/lb.
25
20
140
Feeding Directions
Homestead® Lactator Pellet (#36244) & Texturized (#36236)
Feed approximately 1 pound of Homestead Goat Lactator per 3 pounds of milk produced, depending on stage of lactation and body condition.  Offer along with a good quality forage and fresh, clean water.
Homestead Dry Goat Pellet (#36234):  Feed to a dry goat at the rate of 1.5 pounds per head per day along with good quality forage.  A source of clean, fresh water is also necessary.
Feed by weight and not by volume. 
Divide the suggested daily feeding rate into 2 or 3 feedings per day.
Changes in the diet should be made over a 1 to 2 week period to help prevent digestive disturbances.
Provide plenty of fresh, clean water at all times.
Never feed any feedstuffs that are moldy, musty or suspect in any way.
Caution
These products, which contain added copper, should not be fed to sheep or other related species that have a low tolerance to copper.
Homestead® Goat Locator & Dry Goat Feeds are formulated specifically for goats and should not be fed to other species.
Product Number
#36244—Homestead® Goat Lactator (Pelleted)
#36236—Homestead® Life Goat Lactator (Texturized)
#36234—Homestead® Life Goat Dry