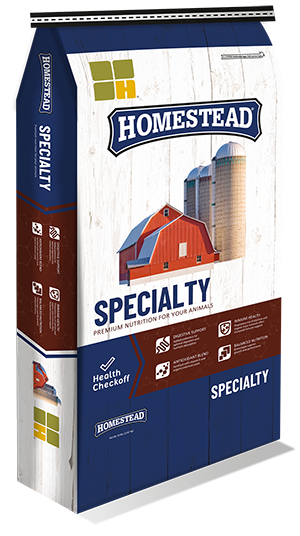 Homestead® Alpaca Feed contains high quality ingredients in a palatable formulation designed to meet the specific nutritional requirements of alpacas. Homestead Alpaca Feed contains high levels of essential vitamins, such as A, D, E, and zinc methionine to help maximize muscle and fiber growth.
About the Product
Homestead Alpaca Crumbles are made into crumbles for ease of handling, improvement in consumption and less feed wastage and separation.
Specifically Balanced
The correct levels of critical nutrients, such as vitamins A, E, minerals, and selenium help to maximize genetic potential for growth and fiber production.
Contains Zinc Methionine
Zinc is essential for excellent skin condition and luxurious hair coat. Added zinc methionine has shown a reduction in the problems associated with foot rot and improved immunity.
Contains Mold Inhibitor
The addition of mold inhibitor helps storage life and helps avoid mold-related problems.
Nutrient Analysis

Crude Protein, min %
16.0
Crude Fat, min %
2.25
Crude Fiber, max %
18.0
Calcium, min-max %
2.5-3.5
Phosphorus, min %
2.2
Salt, min-max %
0.4-0.9
Copper, min
16.0 ppm
Selenium, min
1.5 ppm
Vitamin A, min
40,000 IU/lb.
Vitamin D, min
8,000 IU/lb.
Vitamin E, min
500 IU/lb.
Thiamine, min
300 mg/lb.
Feeding Directions
Feed Homestead Alpaca Crumbles at the rate of 1 pound per head per day along with at least 4 pounds of quality hay to mature alpacas.  The feeding rate can be adjusted to fit the needs of individual alpaca or to compensate for low quality roughages.
Alpaca Crumbles have grain sources to supply energy as well as vitamins/trace minerals.
Feeding and Management Tips
Alpacas should have continuous access to good quality roughage.
Additional feedstuffs (such as a 16% protein corn, oats and soybean meal mix) may be necessary during lactation and in creep feeding situations.
Changes in the diet should be made gradually over a 1 to 2 week period to help prevent digestive disturbances.
Provide plenty of fresh, clean water at all times.
Provide a feeding station (creep area) for crias (baby alpaca) free from adult competition.
Keep animals in a clean, dry environment.  Shelter from adverse weather should be provided.
Never feed any feedstuffs that are moldy, musty or suspect in any way.
Caution
This product, which contains added copper, should not be fed to sheep or related species that have a low tolerance to copper.
This product has been formulated specifically for alpaca and is not intended for other species.
Product Number
#39782—Homestead® Alpaca Crumbles