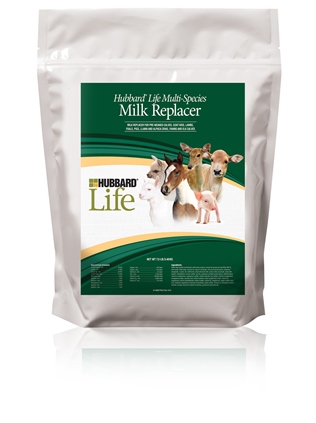 Hubbard® Life Multi-Species Milk Replacer is used to replace or supplement the mother's milk.  It comes in a small package and can be resealed and frozen for later use.  Can be mixed with warm water or used as a top dress.
About the Product
Hubbard Life Multi-Species Milk Replacer contains complete nutrition for foals, goat kids, lambs, calves, pigs, llama/alpaca cria, fawns, and elk calves.
Complete and balanced nutrition for ten different species of farm animals and pets.
All-milk protein sources support optimal digestibility and help animals grow to their genetic potential.
Fortified with 26 essential vitamins and minerals.
Versatile product saves shelf space while meeting the needs of multiple buyers.
Exclusive Magic Crystals® technology produces milk replacer that mixes easily and stays in solution.
Nutrient Analysis

Crude Protein, min %
24.0
Lysine, min %
2.1
Crude Fat, min %
24.0
Crude Fiber, max %
0.15
Moisture, max %
6.0
Calcium, min %
1.0
Phosphorus, min %
0.8
Sodium, min %
0.5
Sodium, max %
1.0
Copper, min
10 ppm
Copper, max
15 ppm
Selenium, min
0.3 ppm
Zinc, min
120 ppm
Vitamin A, min
30,000 IU/lb.
Vitamin D, min
5,000 IU/lb.
Vitamin E, min
115 IU/lb.
Feeding Directions
All animals need to consume colostrum initially.  Please see the bag for specific mixing for a specific specie.  Must use warm but not hot water (comfortable to touch).
Product Number
#36548—Hubbard® Life Multi-Specie Milk Replacer, 7.5 lb.