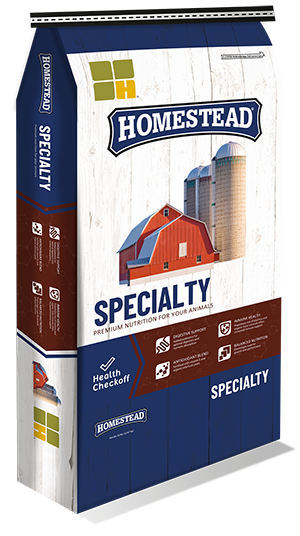 Homestead® Guinea Pig Pellets is not just a modified rabbit feed but a product designed from the ground up with careful formulation for maximum performance.
Homestead Guinea Pig Pellets are formulated  for optimal growth and health with a very stable, long lasting Vitamin C ingredient used in the feeds, which is a vital nutrient for guinea pigs.
About the Product
A complete 22% pelleted alfalfa based feed that is highly fortified with vitamins, minerals and amino acids for optimal growth and longevity. A stabilized Vitamin C is added to enhance shelf life of the feed.
One Product for All Stages of Life
Just one product provides the correct levels of protein, energy, minerals and vitamins for optimum growth and performance regardless of the life stage.
Quality Proteins and Amino Acids
Ingredients are selected for high digestibility and amino acid balance. Synthetic amino acids are also offered to make sure there are no deficiencies for optimal hair and muscle growth in these animals.
Fiber Sources
Carefully chosen sources of fiber (alfalfa meal, soy hulls, beet pulp) have been added to assure a healthy GI tract for these herbivores.
Vitamins and Minerals
Small mammals have demanding vitamin and mineral requirements that cannot be met with a standard rabbit pellet. Homestead Guinea Pig Pellets are highly fortified with vitamins and minerals to provide optimum nutritional levels for correct skeletal and body growth. Calcium, available phosphorus, selenium, copper, as well as biotin, choline, niacin and other vitamins and minerals, are carefully balanced.
Contains Chelated Minerals
Helps to increase mineral utilization.
Quality Inspected Ingredients
Assures consistent quality, bag after bag.
Nutrient Analysis

Crude Protein, min %
22.0
Crude Fat, min %
3.0
Crude Fiber, max %
16.0
Calcium, min %
0.9
Calcium, max %
1.4
Phopshorus, min %
0.6
Salt, min %
0.2
Salt, max %
0.7
Vitamin A, min
11,000 IU/lb.
Vitamin D, min
750 IU/lb.
Vitamin E, min
90 IU/lb.
Feeding Directions
Homestead Guinea Pig Pellets are designed to be fed free choice for all stages of a guinea pig's life.  A hay source may be offered but is not necessary. 
Keep feed out of the sun and in a cool place to help shelf life.  Do not feed product that is older than 6 months. 
Feeding Tips
Additional Vitamin C in the water or feed is not necessary when using this product for guinea pigs. 
Provide plenty of fresh clean water at all times.
Never feed any feedstuffs that are moldy, musty or suspect in any way.
For best results, ratites should be allowed enough space to exercise freely and housed in a draft-free environment.
Caution
This product has been formulated specifically for guinea pigs and is not intended for other species.
Do not feed to cattle or other ruminants.
Product Number
#39873—Homestead® Guinea Pig Pellets