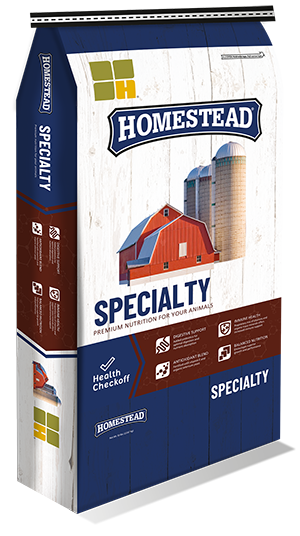 Homestead® Pigeon Feeds are formulated to be balanced diets for pigeons.  Wholesome grains in Homestead Pigeon Pellets are balanced with vitamins and minerals for healthy, productive birds. Homestead Pigeon Grain Mix provides a variety of quality whole grains.
About the Product
Complete and Balanced Products
Encourages optimum growth and performance while minimizing the need and expense for other supplements.
Optimum Vitamin and Mineral Levels
Homestead Pigeon Pellets provide producers with similar fortification levels found in commercial diets.
Grain Mix Form
Grain mix supplies a variety of clean, heavy grains to be used as a scratch.
Nutrient Analysis

 
#40533
Pellet
#39869
Grain Mix
Crude Protein, min %
15.0
10.0
Lysine, min %
0.65
-
Methionine, min %
.30
-
Crude Fat, min %
3.0
3.0
Crude Fiber, max %
7.0
5.0
Calcium (Ca), min-max %
3.0-4.0
-
Phosphorus (P), min %
0.65
-
Salt (NaCl), min-max %
0.1-0.6
-
Feeding Directions
Homestead Pigeon Pellets: Feed free-choice to breeding pairs or racing pigeons as the sole ration for all life stages. Homestead Pigeon Pellets may also be blended with Homestead Grain Mix and fed on a daily basis.  When blended, the grain mixture should not exceed 25 percent of the total daily feed intake.
Homestead Pigeon Grain Mix: Use as a complement to a good feeding program for pigeons such as Homestead Pigeon Pellets.
Feeding Tips
Water - Poultry should have access to clean, fresh water at all times
Grit - When birds have access to coarse litter or whole grains, an insoluble grit should be fed.  Limit intake of grit to 1 pound per 100 pounds of feed or 2 pounds per 100 birds per week. Grit can be blended with their regular ration or offered free choice in a separate feeder.
Do not allow feeders to run empty or stale feed to accumulate.
Never feed any feedstuffs that are moldy, musty or suspect in any way.
Caution
Homestead Pigeon Feeds are formulated specifically for pigeons and should not be fed to other species, or to birds in large commercial operations where a more customized diet would be more appropriate.  Do not feed to cattle or other ruminants.
Product Number
#40533—Homestead® Pigeon Pellets, 50 lb.
#39869—Homestead® Pigeon Grain Mix, 50 lb.