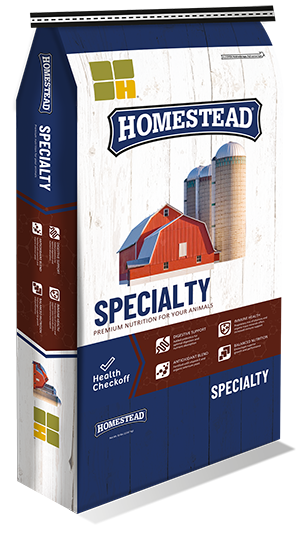 Homestead® Ratite Grower/Breeder is complete 21.5% pelleted feed designed for ostrich, emu and rhea.  This feed is formulated to supply the correct balance of nutrients for the growing and breeding life stages and is highly fortified with vitamins, minerals and amino acids for optimal growth and egg production.  This product not only allows feeding flexibility, but also permits optimal nutrient levels for the growing and breeding phases of life from the growth of meat and feathers to the proper development of eggs.  
About the Product
One Product Program: Provides the correct levels of protein, energy, minerals and vitamins for optimum growth and performance for growing and breeding ratites.
Vitamins and Minerals: Ratites have demanding vitamin and mineral requirements that cannot be met with standard poultry diets. Homestead Ratite Feed is highly fortified with vitamins and minerals to provide optimum nutritional levels for correct skeletal and body growth. Calcium, available phosphorus, selenium, copper, as well as biotin, choline, niacin and other vitamins and minerals, are carefully balanced.
Contains Chelated Minerals: Helps to increase mineral utilization.
Quality Inspected Ingredients: Assures consistent quality, bag after bag.
Nutrient Analysis

Crude Protein, min %
21.5
Lysine, min %
0.9
Methionine, min %
0.3
Crude Fat, min %
3.0
Crude Fiber, max %
13.
Calcium, min-max %
1.4-1.9
Phosphorus, min %
0.8
Salt, min-max %
0.1-0.6
Feeding Directions
Homestead Ratite Grower/Breeder is designed to be fed free choice from 4 weeks of age through the growing stage, then continued into the breeding season.  A source of calcium should be offered free choice during the breeding season. Provide plenty of fresh clean water at all times.
For Starting Ratites: Use Homestead® Turkey Starter from hatch to about 4 weeks of age.
For Ratite Maintenance: Blend Homestead Ratite Grower/Breeder 50:50 with a high fiber product like Homestead Ratite Grower/Breeder Rabbit Maintenance or Familyettes when the birds are not growing, breeding or laying.
NOTE:  Feeding free choice calcium supplement (limestone or oyster shells) is not required or recommended except during egg-laying season.
Feeding Tips
Feeding free choice alfalfa pellets is not required or recommended.
Feeding of granite grit at various grinds, depending on size of bird, will aid digestion.
Never feed any feedstuffs that are moldy, musty or suspect in any way.
For best results, ratites should be allowed enough space to exercise freely and housed in a draft-free environment.
Caution
This products have been formulated specifically for ratites and are not intended for other species.  Do not feed to cattle or other ruminants.
Product Number
#39871—Homestead® Ratite Grower/Breeder